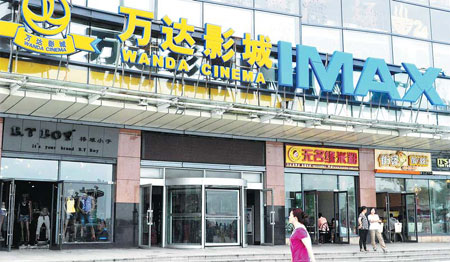 A Wanda Group movie theater. Yan Daming / for China Daily
China's growing influence in cultural industries is good news for the world since it could not only boost international understanding but also increase local employment and improve infrastructure, a manager of the world's largest cinema operator says.
Jack Gao, senior vice-president of Wanda Cultural Industry Group, said the cultural sector has emerged as one of the core businesses of Wanda Group in recent years along with the rapid growth of China's cultural industries.
"Wanda Group's business has risen about 20 percent in recent years, and the value of the cultural sector has risen by twice that," Mr Gao said.
Wanda Cultural Industry Group is a subsidiary of Wanda Group. The company, founded in 1988, is engaged in three key business activities: commercial real estate, culture and finance. Wang Jianlin, chairman of Dalian Wanda, is China's richest man, according to the Hurun Global Rich List published in February.
The company has attached great importance to overseas acquisitions in cultural sectors including cinemas and intellectual property management, said Mr Gao, who joined Wanda Group last June. Before that he was senior vice-president for News Corporation and CEO of Microsoft China.
Wanda owns the US cinema chain AMC Entertainment, Hoyts and Legendary Pictures, is now buying another US cinema chain, Carmike, and has become one of the world's largest movie business groups.
Referring to the purchase of AMC Entertainment in 2012, Mr Gao said the deal had secured the jobs of tens of thousands Americans and that the company's stock price has risen nearly 30 percent this year.
"It proves that a Chinese company can not only buy a Western entertainment giant but also manage it properly," he said, adding that the company has made film-going more enjoyable by enlarging seat space and providing more customised services in cinemas.
The globalisation of Chinese cultural companies is bringing more foreign firms to the Chinese market, which grew 48.5 percent last year and 50 percent in the first quarter of this year. At the same time it brings more Chinese films to the world, and 35 Chinese films have been shown in the US this year, Mr Gao said.
In addition to the growing influence of Chinese cultural industries, the image of Chinese people in Western films has also improved, he said.
By 2020 Wanda Cultural Industry Group aims to be ranked among the top five cultural companies in the world in terms of revenue, the company says. Last year its assets were worth a little more than 90 billion yuan ($19.1 billion), and it had revenue of 51 billion yuan.