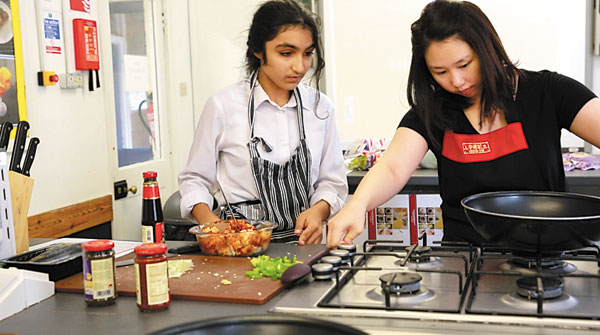 Students at Riverstone prep school take part in the Healthy Chinese Cuisine Ambassadors program. [ANGUS MCNEICE/CHINA DAILY]
Chinese cooks are taking over UK classrooms to teach children how to prepare and appreciate Chinese food.
China Daily joined the Ming-Ai (London) Institute's FUN:) Healthy Chinese Cuisine Ambassadors at Riverston prep school in southeast London, where a classroom of 12-and 13-year-olds cooked kung-pao chicken.
"The program is very important," said Jason Li, former general manager of the Min Jiang restaurant in London, who has led several lessons.
"A lot of Westerners perceive Chinese food as greasy-everything is deep fried, no fine cooking at all. We want to show the students how many different cooking techniques are involved, the many fragrances and tastes, and to try to change the image of Chinese cuisine."
Margherita Carloni, one of the iniative's coordinators, began the lesson with a presentation on the several types of Chinese food.
"One of the main concepts of Chinese culture and food is balance," she said. "You have your protein like meat or tofu, vegetables and sauces-everything has to be balanced to get all the main nutrients from a meal."
The first Chinese restaurant opened in the UK at the turn of the 20th century, and there was a boom in the number of Eastern eateries after World War II, widely attributed to returning servicemen who had gained an appetite for foreign food while serving abroad.
A further rise in Chinese takeaway restaurants came with an increase in Chinese immigration to the UK during the 1980s.
Last year, Chinese overtook Indian cuisine as the UK's preferred ethnic food, according to market research company Mintel. It found that 76 percent of ethnic restaurant or takeaway users in the UK had visited a Chinese establishment, compared with 72 percent for Indian food and 40 percent for Thai.
The study also found that four out of five Britons had eaten Chinese food at home in the past three months, while 12 percent cooked it once a week.
Richard Ford, senior food analyst at Mintel, said, "The ease with which supermarkets and restaurants have been able to translate Chinese dishes into ready-meal and takeaway formats has been key to Chinese cuisine's ability to endure in the UK market."
At the Riverstone school, chef Cynthia Tam led the demonstration, guiding the food technology class through the basics of classic Sichuan cuisine.
While most of the pupils had never tackled a wok, they were all familiar with the ingredients and the majority had eaten Chinese food.
Healthy Chinese Cuisine Ambassadors have led lessons in schools across the UK more than 40 times and have 30 bookings up to early next year.
Chungwen Li, dean of the Ming-Ai Institute, said, "We hope this will encourage kids to go home to their parents and ask them to prepare Chinese food."