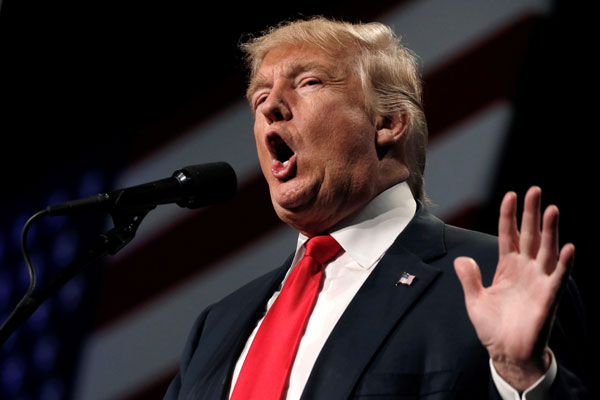 Republican presidential nominee Donald Trump speaks at a campaign rally in Reno, Nevada, US, October 5, 2016. [Photo/Agencies]
NEW YORK - Republicans on Friday grappled with a bombshell 2005 audiotape published by The Washington Post in which Republican presidential candidate Donald Trump boasted in vulgar terms about trying to have sex with an unnamed married woman and groping women, saying "when you're a star, they let you do it."
Democratic candidate Hillary Clinton, who slammed Trump's comments as "horrific," was also hit by a leak on Friday. Wikileaks published what appeared to be excerpts of her paid speeches to corporations, the transcripts of which the campaign has refused to release. The transcripts included comments by Clinton on trade that could be troubling for her.
The disclosures come just a month before the Nov. 8 presidential election, and two days before the second televised debate between Clinton and Trump. The disclosures threaten Trump's already shaky standing with women and reinforce doubts among Democrats that Clinton will crack down on Wall Street.
Trump's leaked comments spurred a flood of indignation and came at what some have seen as a potentially pivotal point. Sunday's presidential debate, a town hall-style event, is seen as critical as Trump tries to rebound from a dip in some opinion polls after a rocky performance in the first debate.
"No woman should ever be described in these terms or talked about in this manner. Ever," said Reince Preibus, chairman of the Republican National Committee.
House of Representatives Speaker Paul Ryan, the top Republican elected official, said he was "sickened" by the comments and said Trump would not attend a campaign event in Wisconsin with him on Saturday.
"I hope Mr. Trump treats this situation with the seriousness it deserves and works to demonstrate to the country that he has greater respect for women than this clip suggests," Ryan said in a statement
Trump in a statement shrugged off the leaked tape as "locker room banter, a private conversation that took place many years ago."
In the recorded conversation, Trump was wearing a microphone and chatting on a bus with Billy Bush, then host of NBC's "Access Hollywood," ahead of a segment they were about to tape.