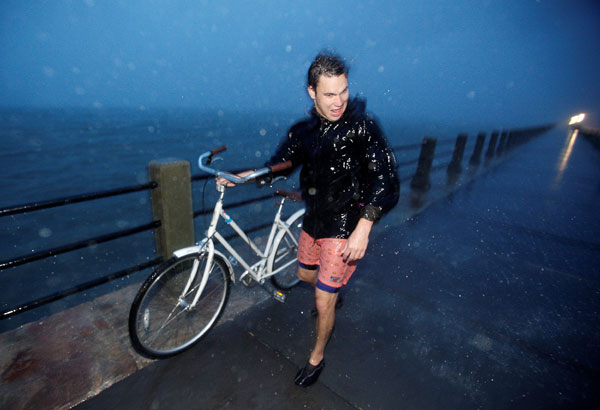 Charleston resident Jameson Everett is buffeted by wind and rain as he pushes his bicycle along the East Battery promenade on the southern tip of the city as Hurricane Matthew arrives in Charleston, South Carolina at dusk on October 7, 2016. [Photo/Agencies]
Almost 1.2 million homes and businesses were without power late Friday as Hurricane Matthew blasted Florida, Georgia and North and South Carolina, electric companies said.
The outages are not as high as utilities had forecast and not expected to reach those levels because the storm has already passed most of the heavily populated southern part of Florida.
On Thursday, NextEra Energy Inc's FPL power company, the biggest in Florida, forecast Matthew could leave as many as 2.5 million homes and businesses without service, some for extended periods of time.
FPL said Friday afternoon it has already restored power to about 239,000 of the 923,000 affected by the storm, leaving about 685,000 still to be restored.
Matthew, the fiercest cyclone to affect the United States since Superstorm Sandy hit the Northeast four years ago, triggered mass evacuations along the coast from Florida through Georgia and into South Carolina and North Carolina. Matthew's eye or center was about 50 miles (80 km) east-northeast of Jacksonville Beach, Florida, with strong winds and storm surge already spreading into Georgia, the US National Hurricane Center (NHC) said.
Matthew skirted Florida on Friday morning with winds of up to 120 mph (195 kph) but had not made landfall by the evening. The NHC downgraded the storm to a Category 2 on the five-step Saffir-Simpson scale of hurricane intensity as its sustained winds dropped to 110 mph. Category 5 is the strongest.
Although weakening is forecast during the next 48 hours, Matthew is expected to remain a hurricane until it begins to move away from the southeastern United States on Sunday, the NHC noted.
With so many power outages, the state's utilities do not have to import as much natural gas as usual to generate electricity.
The amount of gas flowing into the state on the Florida Gas pipeline from Texas and Louisiana was expected to fall by about 800 million cubic feet per day on Friday from an average of 2.7 billion cubic feet per day over the past 30 days, according to Thomson Reuters data.