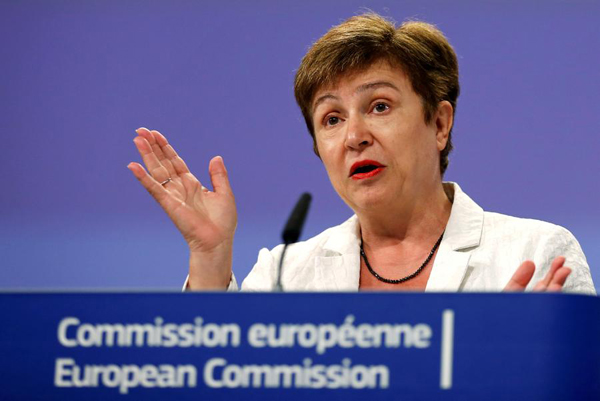 European Budget and Human Resources Commissioner Kristalina Georgieva holds a news conference after a meeting of the EU executive body in Brussels, Belgium, July 27, 2016. [Photo/Agencies]
The Bulgarian government has officially nominated Kristalina Georgieva, currently a vice-president of the European Commission, to join the race to become the next Secretary-General of the United Nations.
Georgieva, who is 63, said in a statement she felt "deeply honored" that the Bulgarian government put her name forward.
Fellow Bulgarian, 64-year-old Irina Bokova, director-general of the Paris-based United Nations Educational, Scientific and Cultural Organization (UNESCO), has also been nominated by her country. Her name was put forward in February.
To date, according to the United Nations website, 12 candidates worldwide have been named by governments as candidates to replace Ban Ki-moon, who will step down at the end of the year. However, three of those have withdrawn their nominations.
It is not yet clear whether Bokova will be withdrawing from the race.
Georgieva welcomed her country's faith in her and said the importance of the UN's mission pushed her to accept the challenge.
"After careful consideration, I have decided to accept the nomination," she said.
Georgieva worked as a senior official at the World Bank before taking up her position within the European Commission, where she is responsible for budget and human resources.
She will now present her credentials and vision for the role of secretary-general to representatives from the United Nations' member states.
Ban Ki-moon has previously said in an interview it is "high time" a woman is selected for the role.
China link
Georgieva is an honorary member of the Beijing-based China Council for International Cooperation on Environment and Development, a high-level international advisory body that works with the Chinese government.
She spoke at a function organized by the China Mission to the EU on Monday, where she described China's recent hosting of the G20 summit as a "huge success". She also said China's steady commitment to tackling climate change has reflected the country's determination to deal with severe global challenges.
"China has gone beyond bringing the contribution to its own people and is determined to develop a peaceful world and respond to global challenges," Georgieva said.
She made the comments at the event ahead of the 67th National Day of the People's Republic of China on Oct 1.
Georgieva said she was encouraged by China's commitment and actions in ratifying the Paris climate change agreement ahead of the G20 summit.
"For me, this is an action that China had taken the lead in and will be beneficial to our children and grandchildren and I should like to thank China for its commitment," said Georgieva.
She said China's 13th Five-year Plan demonstrates it is determined to restructure its economy, improve environmental quality and energy-efficiency, and continue to reduce poverty.
"And, for me, China's hosting the G20 has delivered a clear message that it will do in the global arena what it has done at home," she added.
Yao Yueyang contributed to the story