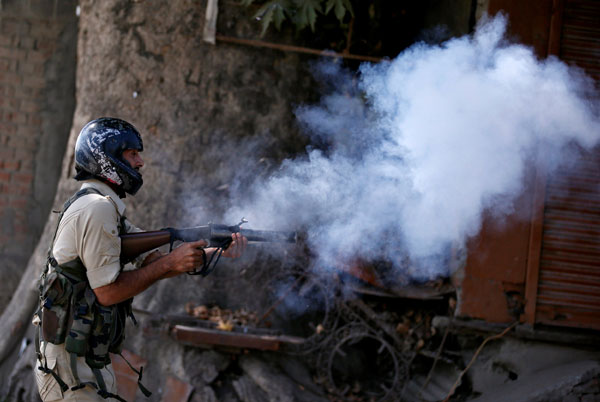 An Indian policeman fires a teargas shell towards demonstrators during a protest against the recent killings in Kashmir, in Srinagar September 23, 2016. [Photo/Agencies]
NEW DELHI -- Indian authorities Thursday sounded an alert in various states that share border with Pakistan and in areas close to Line of Control (LoC) dividing Kashmir, officials said.
The local administration in these places have ordered evacuation of population from the frontier areas close to International Border (IB) and LoC. The alert has been issued in Punjab, Rajasthan, Gujarat and Indian-controlled Kashmir.
The alerts came following Indian claims of "surgical attacks" by Indian army inside Pakistan-controlled Kashmir.
Officials in New Delhi fear attacks from Pakistan in retaliation of the "surgical attacks."
Pakistan, however, rejected Indian claims about "surgical strikes" inside Pakistan-controlled Kashmir. A statement issued by Pakistan military's Inter Services Public Relations (ISPR) said two Pakistani troopers were killed due to unprovoked firing early Thursday from Indian troops across LoC in Bhimber, hotspring, Kel, and Lipa sectors.
Tensions between India and Pakistan escalated because of the ongoing civilian protests in Indian-controlled Kashmir and a deadly attack last week on an Indian army base in frontier Uri town. The attack killed 18 troopers and wounded over 20 others.
New Delhi blames Islamabad for fanning Kashmir protests and accuses it of sending armed militants into Indian-controlled Kashmir, an accusation Islamabad strongly rejects. Islamabad says it only provides moral and political support to Kashmiris.