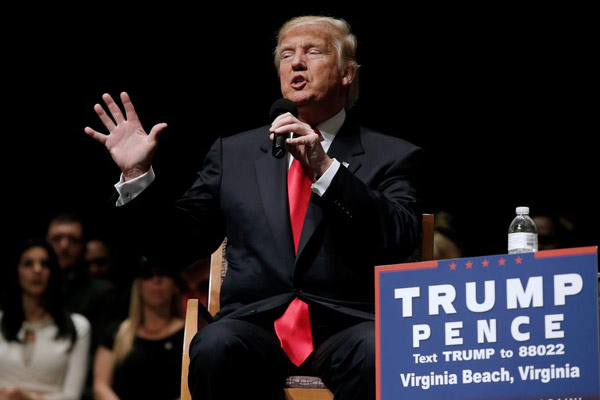 Republican presidential nominee Donald Trump speaks during a campaign town hall meeting in Virginia Beach, Virginia, US, September 6, 2016. [Photo/Agencies]
WASHINGTON - US presidential candidates Hillary Clinton and Donald Trump are entering the final stretch of a knock-down, drag out campaign. While Clinton is favored to win, Trump could catch up if he plays his cards right.
The two campaigns have seen a flurry of activities in recent days, with both candidates hitting the campaign trail hard in a bid to shore up support among both their main supporters as well as independent voters.
In Tuesday's Real Clear Politics poll average, Trump trailed Clinton by 3.3 percentage points. While Clinton is a very unpopular candidate in the US, Trump's outlandish comments and bombastic bravado have gotten him into hot water with moderate voters.
While Trump has galvanized white, blue-collar men like perhaps no other Republican candidate in recent memory, the brash billionaire has turned off single women, independent voters and Hispanics - three crucial voting blocs.
The controversial candidate has in the past compared Mexicans to criminals and rapists, a remark that could end up costing him the election.
Trump has in recent weeks attempted to turn a corner by speaking and acting in a way that is more "presidential."
For her part, Clinton is nearly as unpopular as Trump, and polls consistently show that Americans do not trust her, as the Democratic nominee is constantly dogged by scandals.
Those include allegedly giving foreign donors to the Clinton Foundation special access to her while she was secretary of state. The foundation is run by Clinton, her husband and former president Bill Clinton, and their daughter Chelsea.
Clinton' s use of a private email account and server to conduct business while she was secretary of state, instead of using a secure, government-issued email account, is still being questioned by many. Critics have roundly blasted her for playing hard and fast with the nation' s national security secrets.
While Clinton is now holding a slight lead in the polls, the big question is whether Trump can catch up before the November elections.
To do that, the billionaire mogul needs to do everything he can to reassure moderate voters that he can be calm and cool on the spot, and needs to keep the attention off of him and make the election a referendum on Clinton, analysts said.
"Trump needs to quit making incendiary comments that upset mainstream voters. He often steps on his own message through rude statements that distract from his message about helping the middle class," Brookings Institution Senior Fellow Darrell West told Xinhua.