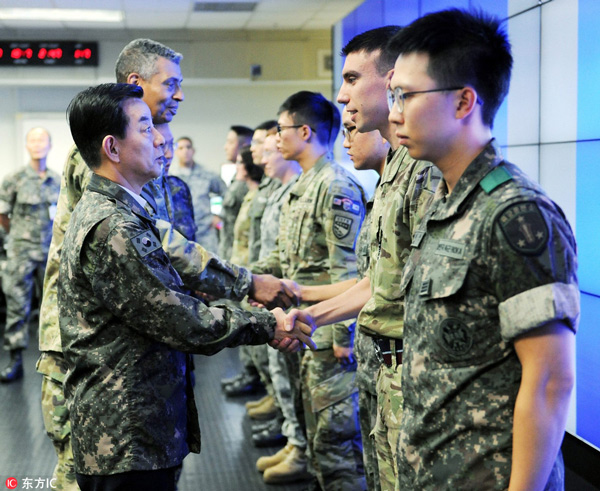 The Republic of Korea's Defense Minister Han Min-koo (L) shakes hands with soldiers during a visit to the ROK-US Combined Forces Command in Seoul, South Korea, August 29, 2016. The soldiers currently participate in the annual ROK-US joint military drill, dubbed 'Ulchi Freedom Guardian (UFG),' that started on August 22 for a 12-day run. [Photo/IC]
PYONGYANG - The Democratic People's Republic of Korea (DPRK) on Friday again denounced the Republic of Korea-US joint military drills, which will be wrapped up later in the day.
The "Ulchi Freedom Guardian" military exercises are "a direct product of the hideous hostile policy" by the United States toward the DPRK, the Panmunjom Mission of the DPRK military said in a white paper carried by the official news agency KCNA.
The United States no longer intends to hide that it's sending nuclear weaponry to the Korean Peninsula, and that proves "their moves for aggression against the DPRK have entered the phase of implementation after going beyond a limit line", the white paper said.
The Ulchi Freedom Guardian drills are aimed at launching a preemptive nuclear attack on the DPRK, and that is the dangerous nature of the joint military exercises, it said.
The white paper also slammed the ROK's government for stoking fear among the public and fanning hostility toward the DPRK in order to justify the drills.
The Ulchi Freedom Guardian military drills started on Aug 22 and will end later in the day.
The ROK and the United States conduct various joint military drills every year, including "Key Resolve", "Foal Eagle" and "Ulchi Freedom Guardian".
Seoul and Washington claim these joint war games are defensive in nature, but Pyongyang says they are designed as preparations for an invasion against the DPRK.