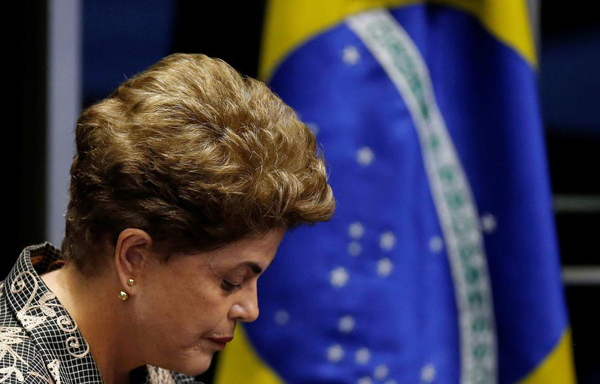 Brazil's suspended President Dilma Rousseff attends the final session of debate and voting on Rousseff's impeachment trial in Brasilia, Brazil, August 29, 2016.  [Photo/Agencies]
BRASILIA - A few short hours after Dilma Rousseff was impeached as president of Brazil, her former vice-president and political ally-turned-enemy, Michel Temer, was sworn in as her successor.

At a special session of Congress, after the playing of the national anthem, Temer was sworn in. He was surrounded by the president of the Supreme Court, Ricardo Lewandowski, the president of the Senate, Renan Calheiros, and the president of the Chamber of Deputies, Rodrigo Maia.

Temer will serve as president until Dec,31, 2018.

The new president did not make a speech but has already recorded an address to be broadcast live to the nation Wednesday evening.
Temer twitted on his account, saying that "I swear to uphold, defend and fulfill the Constitution, observe its laws, promote the well-being of the Brazilian people, sustain the union, integrity and independence of Brazil."

After the swearing-in ceremony, Temer was set to host his first cabinet meeting as full president. After this, he is to fly to China, where he will participate in a number of events, culminating in the G-20 Summit, to be held in Hangzhou on Sept. 4-5.

Shortly before the swearing-in, Dilma Rousseff vowed "a firm and energetic resistance against the putschist government."