MEXICO CITY, Aug 31 - Within minutes of Donald Trump saying he would visit Mexico, one of the front-runners to become the country's next president hit back, saying the brash White House hopeful would not be welcome.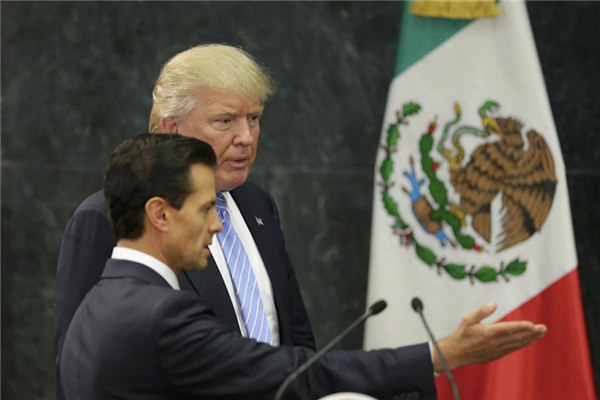 U.S. Republican presidential nominee Donald Trump and Mexico's;s President Enrique Pena Nieto arrive for a press conference at the Los Pinos residence in Mexico City, Mexico, August 31, 2016. (Photo/Agency)
That was just a start.
Scorn rained down on both Mexican President Enrique Pena Nieto and the U.S. Republican presidential nominee after the two announced late on Tuesday they would meet during a brief trip by Trump to the country he has repeatedly attacked during his presidential campaign.
Before it even took place, the visit was a public relations disaster for Pena Nieto as politicians and diplomats condemned him for inviting a man who has united Mexican like few others in shared disdain.
Since launching his White House bid in June last year, Trump has vowed to seal off the country behind a border wall he says Mexico will pay for, tarred its migrants as rapists and drug pushers and threatened to expel millions of them, as well as saying he will revise or tear up a trade deal with Mexico if he wins office in November.
Mexican cabinet ministers have called Trump ignorant and racist, and Pena Nieto earlier this year likened Trump's tilt for the top job to the rise of Adolf Hitler, so the sudden invitation to the real estate mogul was a hard sell to the public.
"Mr Trump may have been invited but he knows he's not welcome," presidential hopeful Margarita Zavala, wife of former president Felipe Calderon and one of the favorites to succeed Pena Nieto at the next election in 2018, said on Twitter.
"Mexicans have dignity and we reject his hate speech," she added.
A few dozen people gathered beneath a soaring monument to Mexican Independence in central Mexico City on Wednesday to protest the New Yorker's visit, some holding placards emblazoned with captions such as "You are not Wall-come" and "Trump and Pena out".
"Trump has badmouthed Mexicans, it's appalling that the president has invited him," said Abril Marquez, a 23-year-old law student holding a sign saying "Trump, you're not welcome!"
Traditionally bitter political adversaries in Mexico have been united in their rejection of Trump, making Wednesday's hastily-arranged encounter a gamble with few obvious benefits for Pena Nieto, whose approval ratings are at all-time lows.
Gang violence is at the worst levels of his term, anger over political corruption is widespread, the peso currency is near record lows and the centrist president's personal integrity is in question after a report that he plagiarized his university thesis. A government spokesman played down the accusation, saying there were "style errors" in the paper.
'UNWORTHY' OF GOVERNMENT
Andres Rozental, a former deputy Mexican foreign minister responsible for North America, said he was at a loss to explain the Trump visit, describing it as a "big mistake" by the government.
"Unless (Trump) comes out and makes a public statement disavowing all the things that he's said, which I doubt very much that he will do, I don't think there's really anything that Pena Nieto can get out of this," he said.
Miguel Barbosa, Senate leader of the leftist opposition Party of the Democratic Revolution, who worked with Pena Nieto to push through landmark economic reforms earlier in his term, said the president was allowing himself to be used by Trump.
"You don't understand," Barbosa said, directing a tweet at Pena Nieto, "the presence of (Trump) in Mexico at your invitation is behavior unworthy of the Mexican government."
Even the man Pena Nieto picked a year ago to be his ambassador to the United States did not hold back.
"Nobody in the last 50 years has put Mexican-U.S. relations in such danger as Trump," Miguel Basanez, an old friend of Pena Nieto who was replaced in April as ambassador after seven months in the job, said on Twitter. "I find the invitation deeply regrettable."
Trump has helped stir the bad blood with comments on Twitter during his campaign. Even as he prepared for his quick visit he was in a Twitter spat with a prominent critic south of the border, Vicente Fox, another former Mexican president.