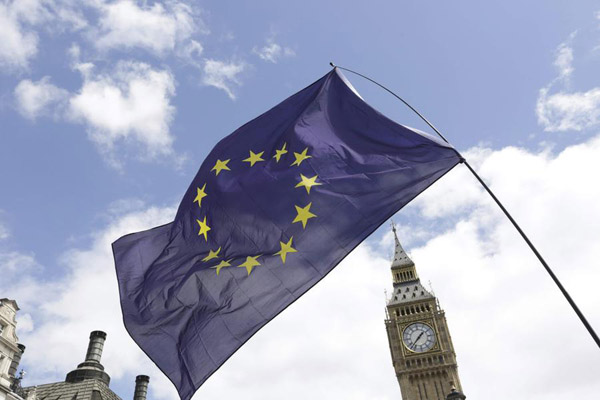 A European Union flag is held in front of the Big Ben clock tower in Parliament Square during a 'March for Europe' demonstration against Britain's decision to leave the European Union, central London, Britain July 2, 2016. Britain voted to leave the European Union in the EU Brexit referendum. [Photo/Agencies]
LONDON - British house price rises picked up speed in August and households recovered some confidence which had plunged after June's Brexit vote, according to surveys that added to signs of calm among consumers after the unexpected referendum result.
However, the increase in house prices was largely driven by a shortage of homes on the market and the outlook depended on longer-term impact on the economy of the vote to leave the European Union, mortgage lender Nationwide said.
Prices rose 5.6 percent compared with the same month last year, faster than July's 5.2 percent. Economists polled by Reuters had expected house prices to rise 4.8 percent.
In monthly terms, house prices rose by 0.6 percent, from a rise of 0.5 percent in July.
"The pick-up in price growth is somewhat at odds with signs that housing market activity has slowed in recent months," Nationwide economist Robert Gardner said.
The Bank of England said on Tuesday that mortgage approvals in July fell to their lowest level since January 2015.
Gardner also said demand for housing had fallen, hit by the introduction in April of a new tax on homes bought by landlords, but the drop appeared to have been matched by weak numbers of homes being put up for sale.
"What happens next on the demand side will be determined, to a large extent, by the outlook for the labour market and confidence amongst prospective buyers," he said.
A survey published earlier on Wednesday showed consumer morale in August recovered some of its post-Brexit slump.
Market research firm GfK said its gauge of consumer confidence rose to -7 in August from -12 in July, when it suffered its sharpest drop in over 26 years. But August's level was still the second-lowest since early 2014.
The improvement was in keeping with recent data suggesting consumers have remained resilient after the June 23 referendum, even though there have been some indications that they are more reluctant to make big purchases than before the referendum.
"While material uncertainty remains, the modest rise in confidence suggests that households do not expect a worst-case scenario," economists at Barclays said in a note to clients. "That said, lower confidence with respect to before the vote remains broadly consistent with our macro scenario of consumer spending slowing materially but gradually next year."