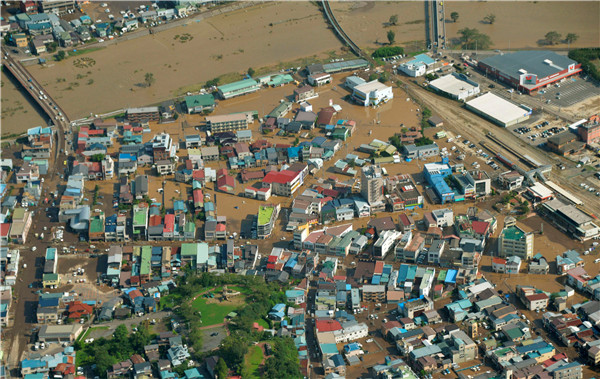 An aerial view shows a flooded residential area from heavy rains by Typhoon Lionrock in Kuji, Iwate prefecture, Japan, Aug 31, 2016. [Photo/Agencies] 
TOKYO - Eleven people have been killed and three remained unaccounted for after Typhoon Lionrock lashed Japan's north and northeast regions a day earlier, local media reported on Wednesday.
Of the victims, nine bodies been recovered in the northeast of the country, with the deceased being found near a nursing home in the town of Iwaizumi, in Iwate Prefecture, according to the local police.
A body of a man has also been found near a river in the same town, and that of a woman in the city of Kuji in the prefecture was discovered among rubble left in the storm's wake.
Local police officers said the bodies of nine elderly people were found near a group care facility called Ranran, with public broadcaster NHK reporting that emergency calls were received following another facility in the Ranran complex being flooded as a result of the typhoon.
According to the land ministry, the Omotogawa River, close to the facility, burst its banks following torrential rain on Tuesday night. The bodies were found on the banks of the river, local media reported.
As many as 80 people had also been airlifted to safety from a facility near to the care home, local reports said, although they were not believed to be in a serious condition.
Wide swathes inland remained flooded Wednesday, meanwhile, in Japan's north, the weather agency said, as parts of Iwate and the northernmost prefecture of Hokkaido saw rainfall reach more than 300 mm since Monday, surpassing the peak for the average seen in a single month in August.