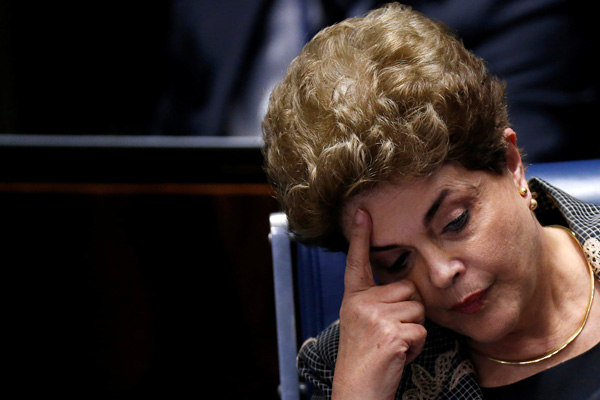 Brazil's suspended President Dilma Rousseff attends the final session of debate and voting on Rousseff's impeachment trial in Brasilia, Brazil, August 29, 2016. [Photo/Agencies]
RIO DE JANEIRO - Brazilian senators were engaged in a marathon debate Tuesday night before the final vote on the impeachment trial against President Dilma Rousseff.
Out of a total of 81 senators, over 60 of them signed to speak, dragging the debate into late at night.
Supreme Court Chief Justice Ricardo Lewandowski, who is presiding over the impeachment process, said the final vote in the trial will be held on Wednesday morning.
For Rousseff to be removed from office, at least 54 senators, or two thirds of the 81 senators, must vote in favor of the impeachment.
The possibility of Rousseff surviving the impeachment vote is very low, based on the latest estimate, analysts said.
Most senators criticized Rousseff in their statements, saying she is to blame for the deep economic recession and serious corruption in Brazil, apart from her fiscal wrongdoing.
Some pro-Rousseff senators, meanwhile, said the impeachment is unjust and politically biased.
Before the senators went forward to speak, the prosecution and defense lawyers gave their emotional final statements.
Rousseff's defense lawyer, former Justice Minister Jose Eduardo Cardozo, made a heartfelt call for senators not to vote in what he called "a parliamentary coup."
Meanwhile, Miguel Reale Junior and Janaina Paschoal, who filed the impeachment case against Rousseff, said the president did commit fraud.