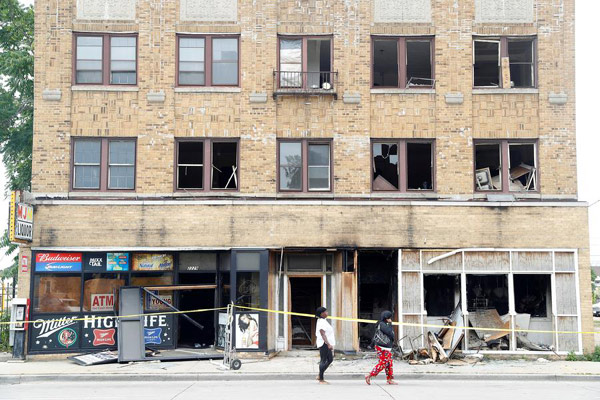 A burned down liquor store is seen after disturbances following the police shooting of a man in Milwaukee, Wisconsin, US August 15, 2016. [Photo/Agencies]
MILWAUKEE, the United States - A nighttime curfew was imposed for teenagers in the US city of Milwaukee starting on Monday following two nights of violence over the fatal police shooting of a black man.
The mayor of Milwaukee, Tom Barrett, imposed the 10 pm curfew in the city located in the north-central US state of Wisconsin in a bid to deter further escalation between protesters and police.
Gunshots were fired, businesses were set ablaze, people were detained and police vehicles damaged after a confrontation between police and protestors turned violent Saturday night and again on Sunday night.
"This is not the place where you go to gawk; it is not the place where you go to take pictures; it is not the place to drive your car around," Mayor Barrett told a news conference Monday.
The curfew will last one week.
Meanwhile, City Sheriff David Clarke ordered the closure of a park nearby the protest site from 6 p.m. to 6 a.m., and the schedule will continue until further notice.
But protests are expected to continue in the northern suburbs of Milwaukee, where police shot and killed 23-year-old Sylville K. Smith on Saturday afternoon.
The death in the police related shooting angered residents, as the incident was preceded by a series of deadly police killings involving mainly African American suspects.
Milwaukee has experienced two nights of unrest, when protesters fired gunshots and threw rocks, bricks, and bottles at police and bystanders. Eight officers were injured by rocks and bricks thrown by protesters.
The police arrested 17 protestors Saturday night and 14 people Sunday night.