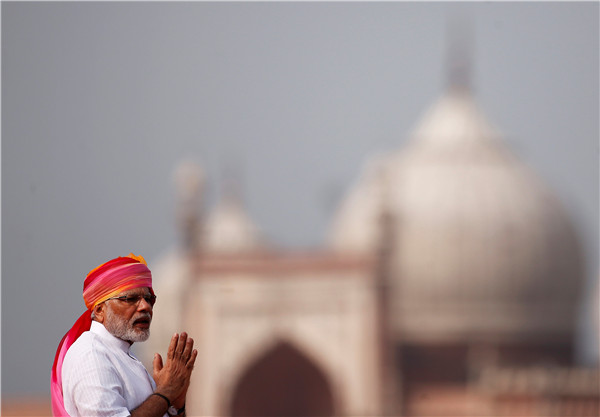 Indian Prime Minister Narendra Modi gestures as he addresses the nation from the historic Red Fort during Independence Day celebrations in Delhi, India, August 15, 2016. [Photo/Agencies]
NEW DELHI - India celebrated its 70th Independence Day Monday, with Prime Minister Narendra Modi taking the opportunity to hit out at neighbouring Pakistan for "glorifying terrorists" who attack this country.
In his address to the nation from the ramparts of the iconic Red Fort in the national capital, Modi minced firm words at Pakistan. "They glorify terrorists who attack us. (But) India had cried with sorrow when nearly 130 children were killed in a massacre by the Taliban in Peshawar two years ago," he said.
The Prime Minister also referred to Pakistan's human rights abuses in its large province of Balochistan and Pakistan-controlled Kashmir, saying that the people of those areas have thanked him for drawing attention to their troubles.
Modi's Independence Day speech came as the Indian government struggles to contain the unrest in Indian-controlled Kashmir in the wake of the killing of 22-year-old militant Burhan Wani, terror outfit Hizbul Mujahiddin's poster boy for new militancy, on July 8 by Indian security forces. More than 60 people have been killed in the violence so far.
India blames Pakistan for instigating the violence in Indian-controlled Kashmir, through terrorists sent across the border as well as its state agencies. Pakistani Prime Minister Nawaz Sharif has eulogized Wani as a martyr and encouraged huge marches to protest against his killing.
While Pakistan observes its Independence Day on August 14, India celebrates the same a day after to commemorate the nation's independence from the British Empire on Aug 15, 1947. It's a national holiday and schools and government offices distribute sweets.