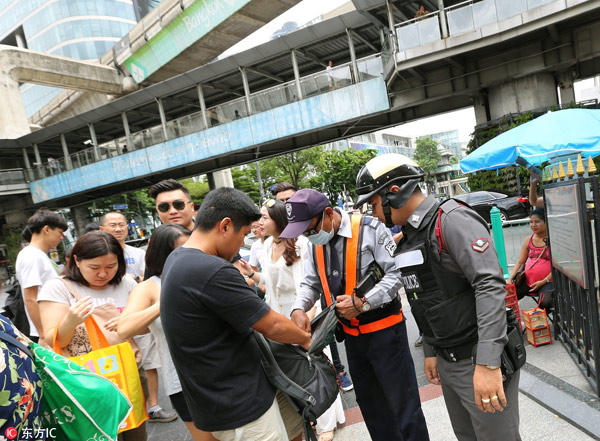 A Thai police officer and a private security guard check a man's backpack near the Erawan Shrine in Bangkok, Thailand, 14 August 2016. Thailand's authorities have increased security measures in crowded tourist areas after a series of bomb blasts occured in several provinces of Thailand, including Hua Hin, in which at least three people were killed and more than 20 people injured, including foreign tourists. [Photo/IC]
BANGKOK - Thai police over the weekend found and defused five explosive devices that had failed to detonate when an as yet unidentified group carried out a series of deadly bomb attacks on popular tourist spots late last week.
Police said they had arrested one suspect following the bomb and arson attacks on Thursday and Friday that killed four people and wounded dozens more in some of Thailand's best-known southern resorts and islands.
The attacks came just days after Thais voted to accept a military-backed constitution that the ruling junta, which seized power in 2014, has said will lead to an election by the end next year.
"These acts were undertaken by a group in many areas simultaneously, following orders from one individual," Pongsapat Pongcharoen, a deputy national police chief, told reporters on Sunday, without elaborating.
No group has claimed responsibility for the attacks.
Analysts say suspicion would inevitably fall on enemies of the ruling junta aggrieved by the referendum results, or insurgents from Muslim-majority provinces in the south of the mostly Buddhist country.
Two incendiary devices in mobile telephone power packs were found in a market in the upscale resort of Hua Hin on Sunday, the interior ministry said in a statement. A bomb disposal team defused both, and local police said the devices had been there since Wednesday.