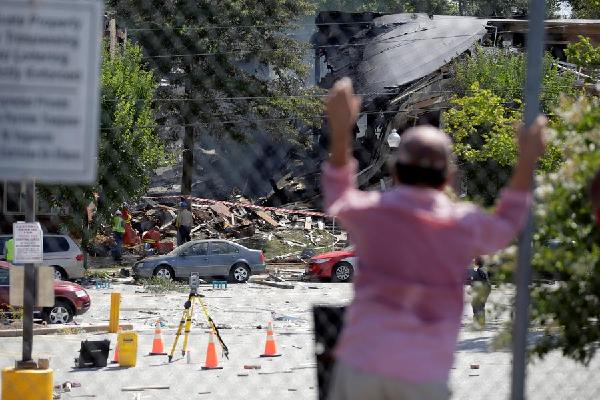 A man watches as fire fighters look through the debris of a four-story building that was destroyed in an explosion that has left up to seven people missing in Silver Spring, Maryland, August 11, 2016. [Photo/Agencies]
Rescue workers searched on Thursday for as many as seven people who were missing after an explosion and fire torched an apartment building in a Washington, D.C. suburb, injuring dozens, including three firefighters, authorities said.
The blast, which was felt a mile away, tore through the four-story building shortly before midnight in Silver Spring, Maryland, Montgomery County Fire and Rescue Service Chief Scott Goldstein said at a news briefing.
"When we arrived on the scene, we found people doing rescues using ladders from construction and paint trucks," Goldstein said.
About 160 firefighters battled the blaze, which was brought under control by Thursday morning. Many stayed on the scene to comb through the wreckage for signs of trapped residents and to extinguish smoldering spots.
"We have the predominant parts of the fire extinguished and we are now trying to transition into that search mode," Goldstein said.
Authorities were investigating the cause of the explosion, which forced 90 people from their homes. K-9 units were searching for the missing.
About 30 people, including the three firefighters, were treated at local hospitals, fire department spokesman Pete Piringer said in a recorded statement.
The blast scattered debris as far as 300 feet (90 meters) from the building, Piringer said.
Clothing was seen strewn on sidewalk treetops in video footage provided by fire officials. Bricks were launched across a roadway, badly damaging a storefront and cars parked nearby.