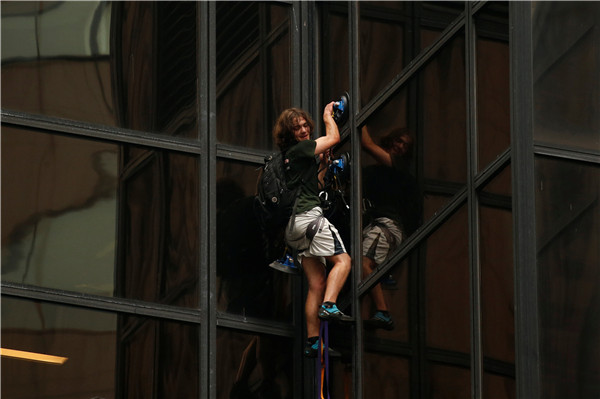 A man climbs the outside of Trump Tower in New York, US, August 10, 2016. [Photo/Agencies]
NEW YORK - A man who scaled the Trump Tower in Midtown Manhattan on Wednesday for more than two hours using what looked like suction cups and a climbing harness was pulled inside through a window by police who had tried to coax him into the building throughout the escapade.
The 58-story tower on Fifth Avenue is headquarters for the election campaign of Donald Trump, the US Republican presidential nominee.
As the man, who wore a backpack, climbed the tower's glass exterior police removed large window panels above him and several officers, some wearing helmets, stood at the windows. The climber shifted his route several times in what appeared to be an attempt to get around the police.
Police had closed several streets near the building in one of the city's busiest areas. They also put an inflatable landing pad on East 56th Street between Madison and Fifth Avenues.
The New York City Police Department said on Twitter that its special operations division and emergency crews had been sent to the building.
Reports of the climber first surfaced on Twitter and social media around 4 pm (2000 GMT). Since then, police have appeared to try to coax him inside, first by throwing a rope in his direction and then by opening a large grate directly above him.
In a video that was uploaded to YouTube on Tuesday, a man discusses climbing the tower in a message addressed to Trump. He wore a black hooded sweatshirt and long hair was over his eyes. He referred to himself as an "independent researcher" seeking a private meeting with Trump to discuss an unspecified matter.
"The reason I climbed your tower was to get your attention," he said in the video and then encouraged people to vote for Trump.