The Chinese Consulate General in San Francisco has teamed up with federal and state agencies and the tourism industry to raise safety awareness for Chinese travelers.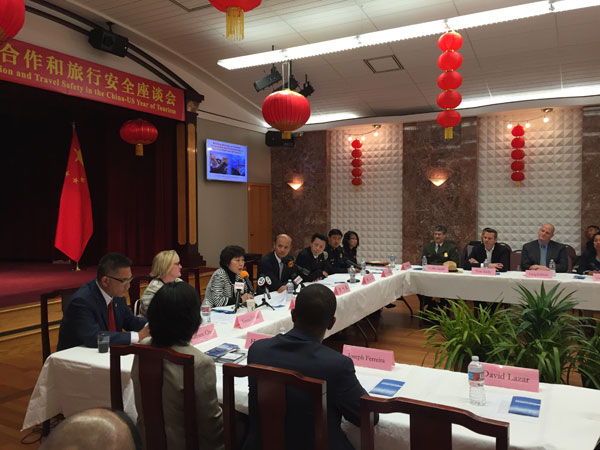 The Chinese Consulate General in San Francisco hosted a workshop on July 28 to promote travel safety among the tourism industry and tourists, in collaboration with federal and state agencies. CONGJIANG WANG / FOR CHINA DAILY 
A workshop was held on July 28 at the consulate, attended by representatives from US Customs and Border Protection (CBP), the National Park Service, the San Francisco Police Department and the San Francisco Travel Association.
Luo Linquan, Chinese consul general in San Francisco, told the participants that 2.5 million Chinese people traveled to the US last year, making China the fourth-largest source of foreign tourists to the US.
"With the boost of the China-US Tourism Year, Chinese visitors to the US are expected to reach 3 million this year," he said. "On each and every day, more than 15,000 people are flying over the Pacific Ocean. There is one flight taking off or landing between China and the US every 17 minutes."
However, the increasing number of incidents and accidents involving tourists has raised safety concerns and affected the tourism industry, Luo said.
In recent years, incidents involving Chinese travelers in the US have risen, from highway accidents to terrorist attacks, from crimes to rampant shootings, he said, reminding the participants of the 2013 Boston Marathon bombing in which a Chinese college student died and the 2013 South Korean airplane crash at San Francisco International Airport, which killed three Chinese high school students.
"Every month, a dozen cases of Chinese traveler and student casualty are reported to our consulate general, not to mention more cases of robbery, burglary and other incidents," Luo said. "It is bad that in many cases, the victims are young Chinese students in their 20s."
All of the participants agreed that it's important for visitors to feel safe when traveling in the US, and they offered advice for Chinese tourists.
Last year, approximately 26,000 car break-ins were reported in San Francisco, up nearly 50 percent over the previous year.
Garret Tom, San Francisco police deputy chief, encouraged the Chinese tourists to pay with credit cards and carry only small amounts of cash. He also advised the tourists against leaving valuable items, such as luggage, handbags or laptop computers, in cars.
Collin Smith, chief ranger of the National Park Service West Coast, also stressed that it was important for visitors to follow the rules not only for their own safety but also for preserving nature.
For instance, he said Chinese tourists like collecting stones, but it is a violation of federal regulations to collect any park resources.
Last month, a Chinese tourist was reportedly fined $1,000 for walking off a boardwalk and collecting water from a thermal spring at the Yellowstone National Park. The visitor was also seen breaking through the surrounding travertine crust, which was fragile limestone deposited by the springs. A week earlier, another tourist died falling into a hot spring.
To those tourists driving though the national parks, Smith said they should refrain from rubbernecking or stopping to feed the wildlife.
Four tourists from Guangdong province were killed on July 24 in Arizona when their van collided with a bus carrying staff members of the Dallas Cowboys pro football team. On June 14, a bus carrying Chinese tourists overturned in Alexandria, Virginia, killing one person and injuring three.