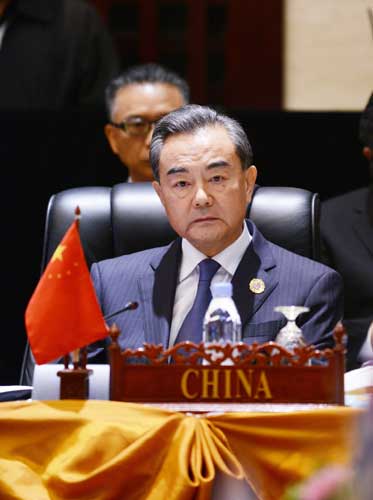 Chinese Foreign Minister Wang Yi attends the 6th East Asia Summit Foreign Ministers' Meeting in Vientiane, Laos, July 26, 2016. [Photo/Xinhua]
VIENTIANE -- Chinese Foreign Minister Wang Yi said on Tuesday that the political manipulation behind the arbitral tribunal will be revealed, in response to the comments made by some foreign ministers on the South China Sea arbitration case.
Wang expounded on China's position when attending the 6th East Asia Summit Foreign Ministers' Meeting held in the Lao capital Vientiane.
Wang said China has not participated in the arbitration case and will not accept the so-called ruling, a position that China has made clear since day one and is supported by strong legal basis.
By adopting this position, China is safeguarding the sanctity and impartiality of the United Nations Convention on the Law of the Sea (UNCLOS), said the Chinese foreign minister.
First, the arbitration unilaterally initiated by the former Philippine government violated the principle of having the consent of concerned parties as the basis of arbitration and failed to meet the prerequisite of conducting full exchange of views beforehand, thus lacking the legal conditions to be initiated.
What the former Philippine government had done also abandoned bilateral agreements between China and the Philippines and violated Article 4 of the Declaration on Conducts of the Parties in the South China Sea (DOC) as well as the principle of estoppel prescribed in international law, according to Wang.
Second, he said, the subject matters of the arbitration, however packaged, in fact directly concern territorial sovereignty and maritime delimitation which are beyond the scope of the UNCLOS and the jurisdiction of the ad hoc tribunal. It is a typical act of overstepping the power and ultra vires as well as the abuse of dispute arbitration mechanism.
Wang said by citing a prominent legal expert from Europe that the arbitration case undoubtedly touches upon territorial sovereignty which is not governed by the UNCLOS. The tribunal's practice of separating territorial sovereignty dispute with the status of islands and reefs is unseen in international law, which is like "putting the cart before the horse."