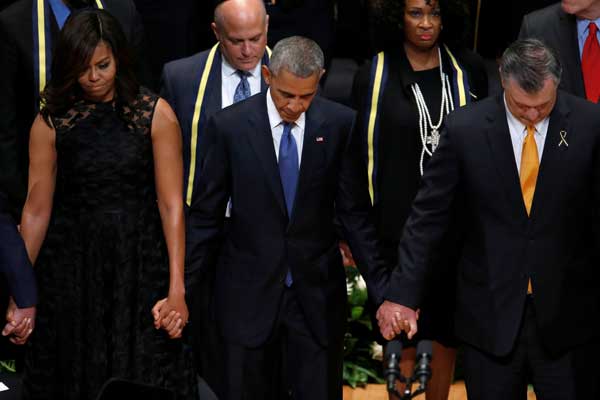 US President Barack Obama (C) and his wife Michelle Obama (L) and Dallas Mayor Mike Rawlings sing during a memorial service following the multiple police shootings in Dallas, Texas, US, July 12, 2016. [Photo/Agencies]
DALLAS - They stood in a line, clasping hands as a choir sang, Democrat and Republican, black and white, politician and cop. Led by President Barack Obama and his predecessor George W. Bush, they honored the five Dallas policemen slain last week and urged Americans to rise above racial divides and reject despair.
The scene unfolded at a memorial service after a week when Americans were jarred by video images of angry crowds protesting police killings of black men in Louisiana and Minnesota and heard the screams of Thursday's sniper attack on police in Dallas by a black former US soldier who had said he wanted to "kill white people."
"We turn on the TV or surf the internet, and we can watch positions harden and lines drawn and people retreat to their respective corners," the first black US president said. "I understand how Americans are feeling. But Dallas, I'm here to say we must reject such despair. I'm here to insist that we are not as divided as we seem."
In a spontaneous display of unity, Obama and first lady Michelle Obama, former president George W. Bush and his wife Laura, Vice President Joe Biden and his wife Jill, Mayor Mike Rawlings, Police Chief David Brown and others on stage joined hands at the end of the service as a choir sang "The Battle Hymn of the Republic."
Obama sought a careful balance, paying tribute to the dead police officers and showing respect for the country's law enforcement while also acknowledging the concerns of those protesting against police violence.
He noted that the Dallas attack came during a protest against racial discrimination in policing that followed the fatal police shootings of black men in Baton Rouge, Louisiana, and outside St. Paul, Minnesota. A series of high-profile police killings of black men in the past two years have sparked the most intense debate on race and justice in America in decades.
"America, we know that bias remains. We know it," Obama told the crowd of several hundred people, including many uniformed police officers, at the Morton H. Meyerson Symphony Center. "None of us is entirely innocent. No institution is entirely immune. And this includes our police departments."