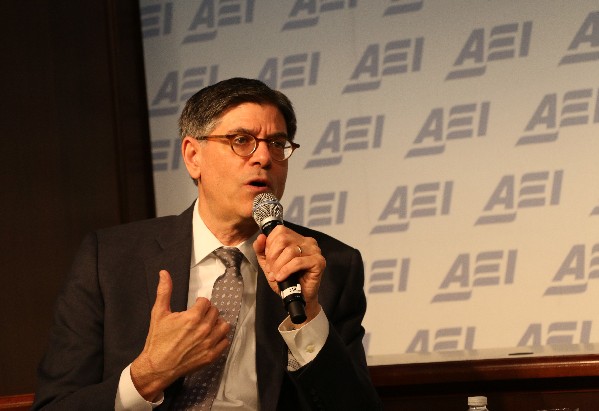 US Treasury Secretary Jack Lew talks about the US-China economic relationship on Thursday at the American Enterprise Institute in Washington. [Photo by Chen Weihua/China Daily]
A revised negative list for a Bilateral Investment Treaty is being discussed by Chinese and US negotiating teams in Washington.
However, the agreement looks unlikely to be concluded during the remaining seven months of the Obama administration.
Jack Lew, US secretary of the treasury, said on Thursday that a sufficiently ambitious negative list — where only exceptions to the treaty are specified — from China could open a pathway to additional progress before the end of the year.
"Up until this last round, the negative list we've seen has not been sufficiently ambitious to open enough of the economy for the BIT to have a successful path forward," he told the American Enterprise Institute on Thursday.
Lew said he hopes China takes advantage of the remaining seven months of the Obama administration, noting an upcoming meeting in September between President Xi Jinping and US President Barack Obama in Hangzhou, Zhejiang province, on the sidelines of the G20 Summit.
On Friday, Shen Danyang, spokesman for the Ministry of Commerce, said the momentum of negotiations on the investment treaty is encouraging, with discussions held on the negative list.
The two countries have pledged to exchange the new negative list this month to reach a win-win result, he said.