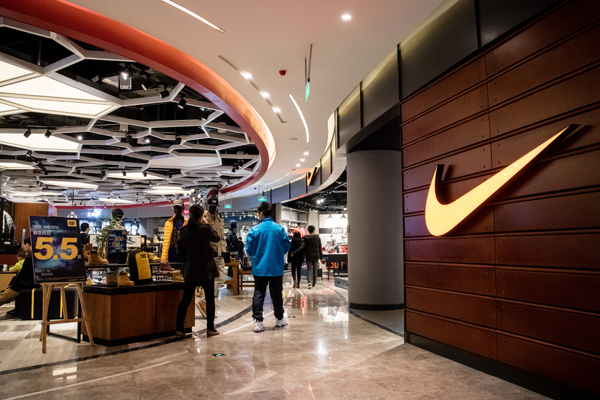 Sportswear on sale at a Nike store in Fuzhou, Fujian province, on January 9, 2016.[Photo/VCG]
Chinese consumers are turning more to Western sports brands rather than big luxury names when they go shopping, according to media report.
Nike's Greater China sales are strong, with orders from September to April up between 27 and 35 percent.
Sales in Greater China for Adidas grew 38 percent to 2.47 billion euros ($2.79 billion) last year and now account for about 15 percent of global revenue. The brand opened more than 500 Chinese stores last year, taking its total to about 9,000, and wants to add another 500 this year. Sales in the country increased 22 percent in the first quarter, said CEO Herbert Hainer.
Growing demand to stay fit and healthy is another factor behind the boom in sports brands. The fitness industry recorded sales of 127.2 billion yuan in 2014 ($19.3 billion), an 84 percent increase over 2009, according to a March 15 report of China Daily. The government is encouraging this trend, hoping to drum up more interest in sports before Beijing hosts the Winter Olympics in 2022.
The Chinese sports industry is still underdeveloped. Sports accounted for just 0.7 percent of the country's GDP last year, or 474 billion yuan ($72 billion). The government has a target of over 3 trillion yuan by 2020.
The sports boom has yet to pay off for some of China's home-grown brands. Competition from Adidas, Nike and other foreign brands is hurting many of them, with order growth falling from high double-digits last year to low-to-mid double digits in early 2016.