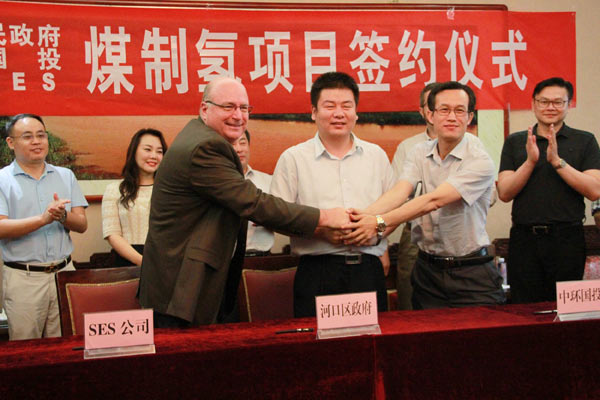 Front left to right: SES Vice Chairman Robert Rigdon, Deputy Governor of Hekou District Zhao Mingyin and Deputy GM of CESI Huang Jiangtao shake hands after signing the agreement in Dongying, Shandong on June 14. [Provided to China Daily]
Houston-based Synthesis Energy Systems (SES) announced on Wednesday that the company, along with state-owned China Environment State Investment Company (CESI), signed a project investment and cooperation agreement with Shandong Dongying Hekou district government. Total construction investment is estimated to be $380 million.
The project will use SES Gasification Technology's clean syngas to produce lower-cost hydrogen needed for clean fuels production by refineries at the Hekou Blue Economy Industrial Park Project in Dongying, Shandong.
The planned build-out consists of multiple projects completed in phases with an estimated preliminary total investment of approximately $85 million for the first phase. The first completed facility is expected to deliver 50,000 cubic meters of 99.99 percent pure hydrogen per hour, as well as syngas and other industrial gases, to the refineries in the park.
When fully completed, the capacity of the entire project will be a combined 300,000 m3/hr of hydrogen, syngas and other industrial gases.
According to the announcement, the projects will be funded by equity from a combination of SES, CESI and funding partners along with debt financing.
In addition, this project, and the previously announced SES-CESI Dongying pipeline hydrogen project in Lijin Binhai New District, will be used as demonstration sites for energy conservation and emission reduction through the capture and utilization of carbon dioxide.
The Hekou government will assist in coordinating with the local Shengli Oil Field for the demonstration of using the projects' carbon dioxide for oil field flooding. The project will apply for China's National Demonstration Project status.
"Dongying City is in the backyard of Shengli Oil Field and has the highest concentration of local refineries in China," said Wang Wei, CESI Chairman. "With the policies to drive the refineries away from the city and into the industrial parks, and with the requirement to improve the quality of oil products and the relaxation of rules on the rights to import and use imported crude oil, the demand from the local refineries for hydrogen will grow. Our Lijin and Hekou coal-to-hydrogen projects are extremely attractive."
"We are pleased to move forward with our second major clean energy undertaking in China together with CESI, in support of the government's environmental and economic initiatives to centralize our industry into cleaner and more efficient industrial parks," said DeLome Fair, SES president and CEO.
Fair said that the timeline established includes a target to complete the required project development steps by the end of 2016, which is necessary for the project to apply for government approvals and to complete the financing necessary to begin construction.