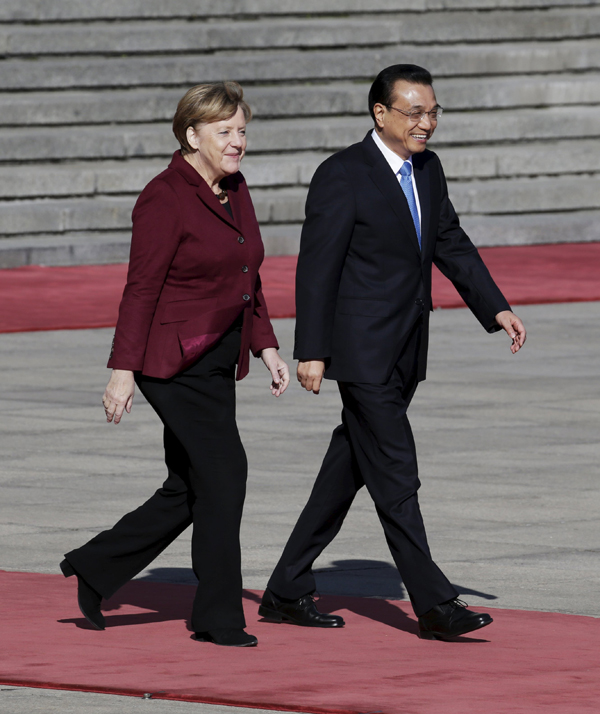 Germany's Chancellor Angela Merkel (L) and China's Premier Li Keqiang attend a welcoming ceremony in Beijing, China on October 29, 2015.[Photo/Agencies]
German Ambassador to China Michael Clauss expects a mutual exemption of visas in five to 10 years, to strengthen exchanges in economy, scientific research and people-to-people communication between the two countries.
Clauss made the remarks during a media interview, ahead of German Chancellor Angela Merkel's visit to China from June 12 to 14.
Germany has exempted visa processing for Chinese diplomatic passports and shrunk the processing times of business and tourist visas to 48 and 72 hours, respectively. The next step is to significantly cut the documents and materials required for tourist visa applications.
The chancellor will attend the fourth round of China-Germany inter-governmental consultations in Beijing, before visiting Shenyang in the Liaoning province. The German delegation includes around 10 federal ministers and 20 high-level economic representatives, such as the presidents of BMW, Volkswagen and Siemens.
The two parties may sign an agreement regarding economic espionage before the inter-governmental consultation, Clauss said, as data protection cooperation is a crucial element in protecting the achievements of innovation, which is a key topic of the consultation.
China and Germany, as rotating G20 presidents this year and next year, will discuss how to play a positive role at the G20 to address the economic recovery slowdown. Opening and innovation, instead of issuing loans, are the keys to boost the world economy, spokespeople from both countries said.
Scientific research and economic topics, such as the docking of German Industrial 4.0 and China Made 2025, remain other focuses for the consultation.
According to Clauss, Chinese telecom products such as Huawei and ZTE are well accepted in Germany, and he expects more German products such as medicines, agricultural products and food to be successful in China. A fairer competitive environment with fewer restrictions will benefit German products exporting to China, along with the introduction of German investment and technology, Clauss said.
The German government will stick to its open attitude towards Chinese investment, with no laws or regulations restricting commercial activities.
While discussing the South China Sea issue, Clauss said all countries should comply with the international rules. The South China Sea arbitration was unilaterally initiated by the Philippines, according to the Ministry of Foreign Affairs of China. In doing so, the Philippines has turned its back on the agreement reached and repeatedly reaffirmed by China and the Philippines to settle the relevant disputes in the South China Sea through negotiation, violating its own solemn commitment in the Declaration on the Conduct of Parties in the South China Sea (DOC).