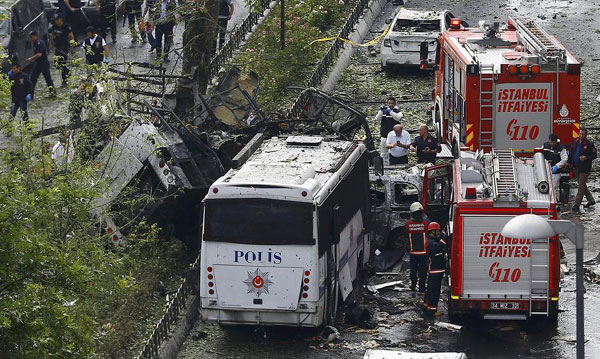 Fire engines stand beside a Turkish police bus which was targeted in a bomb attack in a central Istanbul district, Turkey, June 7, 2016. [Photo/Agencies]
ISTANBUL - A car bomb targeted a riot police shuttle bus in Istanbul on Tuesday, with seven police officers and four civilians killed and 36 others injured, the governor said.
A parked car exploded as the police bus passed by in the neighborhood of Vezneciler in Fatih district, press reports said.
An exchange of gunfire then broke out between the police and gunmen near a police station, some reports said.
Many ambulances were dispatched to the scene, while police evacuated and cordoned off the area and halted the public transportation.
The security situation in Turkey has deteriorated in recent months, with Istanbul, the national capital of Ankara and other cities having been hit by a number of bombing attacks.
Turkey entered the holy month of Ramadan on Monday, a time when Muslims in the country practice fasting.