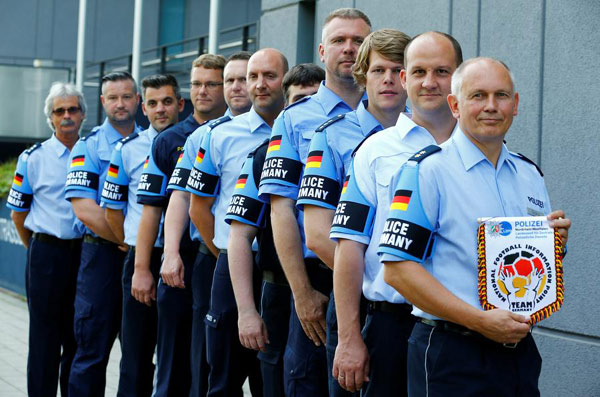 German police officers pose for an image with their armband reading "Police Germany" at the North Rhine-Westphalian police headquarters in Duisburg, Germany, June 6, 2016. Germany is sending a total of 12 police officers from eight different German federal states who know the local soccer hooligans scene to support French police during the upcoming EURO 2016 soccer championships in France.[Photo/Agencies]
STRASBOURG - The Council of Europe (CoE) launched Monday a new international convention aimed at ensuring security and safety in sports stadiums.
CoE member states are being invited to sign the convention during the Euro 2016 football tournament, which kicks off in Paris this Friday, against heightened security fears, following the terrorist attacks in the French capital last November.
Chief among the provisions of the new convention, which will replace one drawn up in 1985, is to strengthen cooperation between European police forces, the CoE said in a statement.
"The convention, which governments are invited to sign on July 3 at the Stade de France, in Paris, at the last of the tournament's quarter-finals, encourages effective cooperation between all those involved at local, national and international levels," the CoE stated.
States signing up to the Convention will undertake to step up cooperation by designating a national football information point (NFIP) within their police forces to exchange information and personal data in connection with international football matches.
At "high risk" matches, plain-clothed police officers from participating countries will be present as well as "spotters," said Marie-Francoise Glatz, program officer for the CoE's sport conventions unit.
"The world of football has been transformed and so it has become necessary to renew the stadium convention to take account of this changed world to ensure security and safety," added CoE head of Sport Conventions Sergey Khrychikov.
"What is more and more worrying is what happens outside stadiums," Khrychikov continued. "It is much more difficult to control nearby public spaces than while watching a match in a stadium."
On Nov 13 in Paris, there were 80,000 spectators inside the Stade de France, along with French President Francois Hollande and German Chancellor Angela Merkel. Three suicide bombers had tried to enter the stadium, but unable to do so they detonated their explosives outside killing themselves and a passer-by.
A CoE committee of experts tasked with monitoring the application of the 1985 Convention will produce assessments of the security arrangements along with the tournament's organizers UEFA and other bodies.
"Since Nov 13, France implemented many new measures during the country's national football championship as well as in international competitions. We have seen that the French authorities are fully aware of the issues and challenges," Khrychikov said. "The way the evacuation of the Stade de France was carried on Nov 13 also shows that Paris is well able to deal with such threats," he added.
With France still officially under a state of emergency, 60,000 police officers have been mobilized, and other special measures have not been ruled out, including matches played behind closed doors or a ban on demonstrations.
Beyond the threat of terrorism, there is also the specter of hooliganism. "Special attention should be paid to public areas where supporters gather to watch the games," Khrychikov said.
A number of measures are envisaged in the new Convention to prevent and punish acts of violence and misbehavior, including stadium bans, sanctions procedures in the country where the offence is committed or in the offender's country of residence, or restrictions on traveling abroad to football events.
The launch of the Convention came on the same day as the announcement by Ukrainian security forces that a French national detained last month was planning mass attacks during Euro 2016.