PARIS - The rain-swollen River Seine in Paris began to recede Saturday after reaching its highest level in three decades. However, problems troubling the French tourism may not be eased immediately amid the shadows of terrorism and strikes.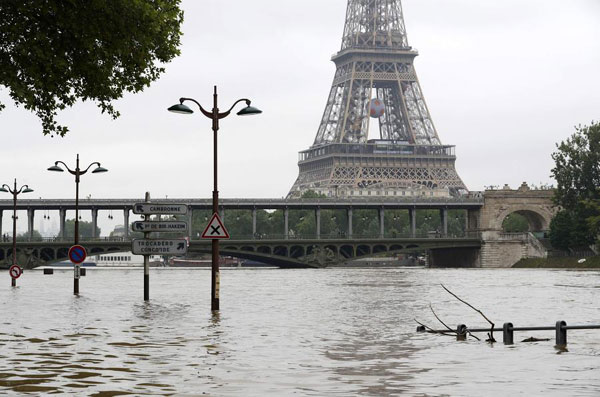 View of the flooded river-side of the River Seine near the Eiffel tower in Paris, France, after days of almost non-stop rain caused flooding in the country, June 3, 2016.  [Photo/Agencies]
Over the past few years, France has been troubled by devastating terror attacks, which caused a huge loss of life and personal injuries, property damage and public fear, leading to a weak tourism industry.
In this spring, violent protests and strikes over a labor reform bill left hotels and tourism chiefs in Paris lamenting another blow as concerned visitors once again began to have second thoughts.
The flooding is the latest hit to Paris even the country as a whole. The Seine River peaked early Saturday, hitting its highest level in nearly 35 years -- almost 6.1 meters above average. Though it began a slow descent now, authorities cautioned it could take up to 10 days for the river to return to normal.
The Louvre and Orsay museums, which sit on opposite banks of the Seine, remained closed Saturday, a day after shutting their doors in a race to move art treasures out of basements to higher ground as a precautionary measure.
On Friday evening, French President Francois Hollande visited the Louvre, where some of the 38,000 artworks thought to be at potential risk were brought to safe places.
The Louvre will remain closed until Wednesday while the Orsay said it would reopen Tuesday. The two museums receive a combined total of 12.5 million visitors a year.
Mustafa, owner of a souvenir shop on the banks of the Seine, told local media that "in the seven years I have lived here, I have never seen a season like this."
"I worry about whether tourism will pick up in the coming weeks. What with the terrorism, strikes and now floods, it's no surprise that there seem to be fewer tourists. It is the worst time to own a souvenir shop like this in Paris," he said.
An art student Lani told local media that "we were kicked out of the d'Orsay when it shut down four hours early yesterday. I was extremely upset. Didn't even get to see the Van Goghs."
So far, thousands were still without power, many roads were not passable, and railway and Metro stations were shut down. The Grand Palais, the museum complex located on the Champs-Elysees, and the national library were also shut down.
Nearly a week of heavy rain has led to serious flooding across a swathe of Europe, leaving 16 people dead and others missing. Four people in France were killed and 24 injured during the flooding.
Water levels are expected to return to normal by the time Euro 2016 kicks off on Friday, when tens of thousands of fans from around Europe are set to pass through Paris during the football tournament.