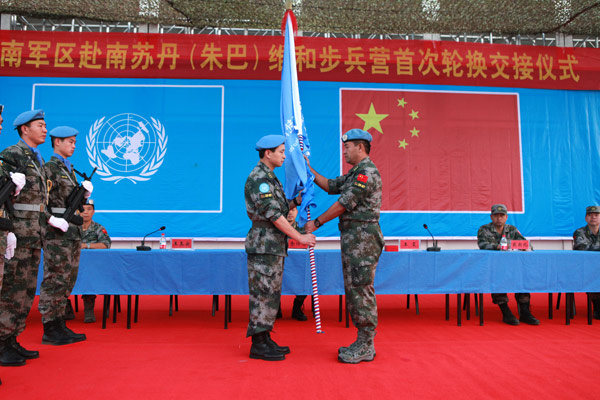 The second batch of Chinese peacekeepers receives the United Nations peacekeeping flag from its predecessors in Juba, South Sudan, on Dec 17,2015, marking the completion of work conducted by China's first full infantry battalion for a UN peacekeeping mission in South Sudan. [Photo/Xinhua]
China is set to be the second-largest country to share United Nations' peacekeeping costs from 2016 to 2018, just behind the United States, accounting for 10.2 percent of the total.
Herve Ladsous, UN Under-Secretary-General for Peacekeeping Operations, was quoted during an interview on Sunday, ahead of his visit to China in early June.
China's contribution to the UN peacekeeping operations budget will rise from 6.6 percent to 10.3 percent, surpassing Japan for the first time, Wang Min, China's deputy permanent representative to the UN, said in December.
Meanwhile, the country will also pay 7.92 percent of the total UN regular budget from 2016 to 2018, making it the third-largest contributor among 193 member states, following the United States and Japan.
As long as the membership fee has been calculated in a just, impartial and reasonable manner, China will shoulder its responsibilities as a permanent member of the UN Security Council, Wang added.
During Ladsous' China tour next month, the UN Under-Secretary-General is also due to discuss China's offer of 8,000 troops, announced last year. This comes as the UN is planning to pull together a standby force of 15,000 troops for quick deployment to conflict zones.
Ladsous deemed China's latest offer "remarkable", appreciating Beijing' s peacekeeping forces to South Sudan and a squadron of transport helicopters to Sudan.
It has been 25 years since China joined the UN peacekeeping operations, and it has become the top contributor of troops among the five permanent members in UN's Security Council. More than 3,000 Chinese peacekeepers are now deployed in 10 missions worldwide, including South Sudan, Lebanon and Mali.