US President Barack Obama will leave on May 21 for his first trip to Vietnam and his 10th trip to Asia as president, a trip that his aides said "demonstrates Obama's focus on the Asia-Pacific region".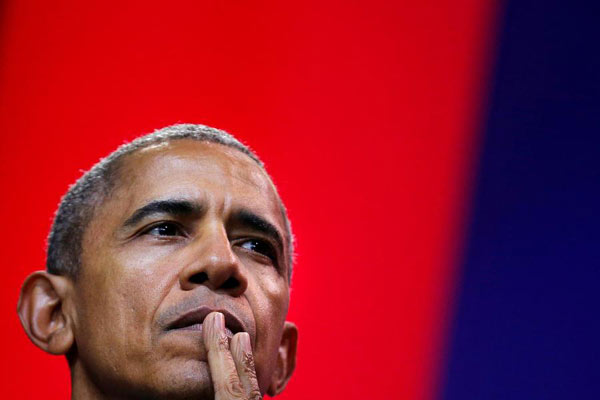 US President Barack Obama attends a comedy show celebrating Military Appreciation Month as well as the 5th anniversary of Joining Forces and the 75th anniversary of the USO at Joint Base Andrews in Clinton, Maryland, US May 5, 2016.  [Photo/Agencies]
The trip from May 21-28 will take Obama to Hanoi and Ho Chi Minh City in Vietnam. On May 25, Obama will depart for Japan to attend the G7 summit and end his trip with a visit to Hiroshima.
The president will visit the Hiroshima Peace Memorial, a place that serves to commemorate the people who were killed in the atomic bombing of the Japanese city on Aug 6, 1945, which hastened the end of World War II. Most of the 70,000 people killed instantly were civilians.
Ben Rhodes, the White House deputy national security advisor for strategic communications, said the visit is not about issuing an apology.
"And of course the American people are extraordinarily proud of the generation of service members who fought in World War II at a time of maximum territorial nations. They have a revered place in our society," he told a conference call on Thursday.
Michael Green, senior vice-president for Asia, and Japan chair at the Center for Strategic and International Studies, said a majority of Americans and a large majority of historians in the US believe that the atomic bombing was necessary to shorten the war and forestall an invasion of Kyushu, which would have led to many more casualties.
Rhodes emphasized that the visit is to pay tribute to the enormous suffering and loss of innocents and also to pursue a world without nuclear weapons, a proposal by Obama in 2009 that won him the Nobel Peace Prize.
The president has been criticized in the past year for his efforts to spend $1 trillion in the next 30 years to upgrade the US' nuclear weaponry.
A possible US lifting of an arms ban on Vietnam has made headlines in the past days. Daniel Kristenbrink, senior director for Asian affairs at the National Security Council, said on Wednesday that all of the sales since the US enacted a partial lifting in 2014 on maritime-related articles are reviewed on a case-by-case basis.
"And human rights considerations are a part of that process," he said.
Rhodes said a decision on the issue has not been finalized. He expects it to be discussed by Obama in his meetings with Vietnamese leaders.
"We are looking at it, not narrowly in the context of simply whether or not to lift the ban, but rather where is our relationship going …" he said.
There have been reports that the Vietnamese government is studying a request to grant the US Navy greater access to Cam Ranh Bay, a move that might draw attention from China.
US Trade Representative Michael Froman, who also will make the trip, talked about how the Trans-Pacific Partnership will open the Vietnamese market and benefit US businesses, citing the high tariffs there now for automobiles and beef. But he also acknowledged the challenges there about child labor, intellectual property and environmental issues.
He said the Obama administration is consulting with US congressional leaders to see when would be a good time for a vote on the TPP.
The US, Vietnam and Japan all are members of the 12-nation TPP, an agreement reached last October. But Japan and the US are facing an uphill battle to ratify the treaty. Three standing 2016 US presidential candidates, Hillary Clinton, Donald Trump and Bernie Sanders, all opposed TPP.
China has always kept a close eye on US leaders' trips to the region. Foreign Ministry spokesman Hong Lei said on Thursday that "we hope that cooperation between relevant countries will be constructive and conducive to peace, stability and security of the region".
Kurt Campbell, chairman of the Asia Group and a former US assistant secretary of state for East Asian and Pacific Affairs, said the trip is not part of "pincer movement aimed at China".
He emphasized that Obama's meeting with President Xi Jinping was the only bilateral meeting Obama had during the Nuclear Security Summit (March 31-April 1), and the two leaders will meet for a summit again in September during the G20 summit in China.