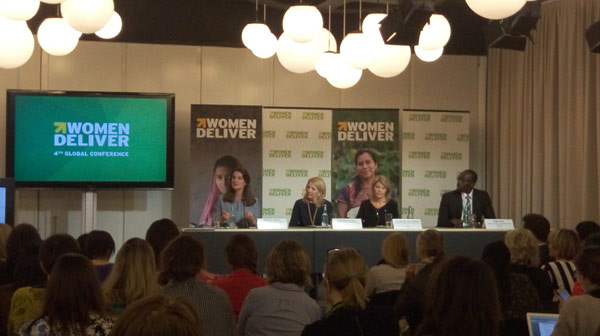 Melinda Gates (left) announces $80 million commitment to accelerate progress for women and girls on Women Deliver conference in Copenhagen. [Photo provided to chinadaily.com.cn]
Melinda Gates, co-chair of the Bill & Melinda Gates Foundation, announced today that the foundation will commit $80 million over the next three years to close gender data gaps and help accelerate progress for women and girls around the world.
The announcement was made in her keynote speech at the Women Deliver conference in Copenhagen - the largest gathering on the health, rights and wellbeing of girls and women in over a decade.
The Gates Foundation believes that women and girls' lives can become visible and counted. However, a lack of comprehensive, current information about women and girls, especially in developing countries, hinders efforts to advance gender equality.
"By adopting the United Nations Sustainable Development Goals, the world agreed to achieve gender equality by 2030. But we cannot close the gender gap without first closing the data gap," Gates said.
"We simply don't know enough about the barriers holding women and girls back, nor do we have sufficient information to track progress against the promises made to women and girls. We are committed to changing that by investing in better data, policies and accountability," she said.
To reach the UN's sustainable development goals by 2030, the world must advance its knowledge about women and girls' lives and livelihoods, their welfare and well-being, and their contributions to their communities, countries and economies.
"The 2030 Agenda for Sustainable Development aims 'to leave no one behind'. Through our new flagship program initiative 'Making Every Woman and Girl Count', UN Women commits to supporting countries to improve the production, accessibility and use of gender statistics," said Phumzile Mlambo-Ngcuka, UN Women's executive director.
The Gates Foundation's new $80 million commitment will support efforts that:
• Fill critical gender data gaps, including knowing how much time women and girls spend on unpaid work around the world, and what implications this has on their life chances and choices, such as completing education, getting jobs or starting businesses.
• Improve the accuracy and reliability of data collection, which can reveal on a large scale who owns assets like land, property or credit.
• Equip decision makers with more timely and clearer evidence about programs and interventions that are working and those that are not, so they can be redesigned quickly and more effectively.
• Support civil society in holding leaders accountable for the commitments they've made to women and girls, helping to maintain the political will to achieve gender equality.
• Amplify and strengthen organizations and platforms that keep gender equality at the center of global and national development efforts.