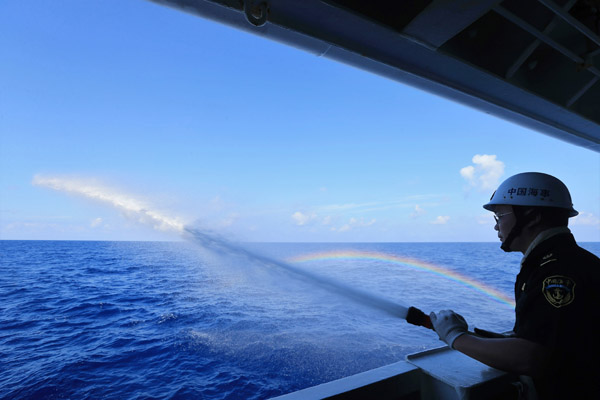 A sailor is taking part in the fire drill on the Chinese patrol vessel "Haixun 01" on April 8, 2016 in the South China Sea. [Photo/Xinhua]
WASHINGTON - The Chinese Embassy in the United States on Monday refuted an editorial by The Washington Post on the South China Sea dispute, denying false accusations and clarifying historical facts and the Chinese stance.
In a letter called "Provocations in the South China Sea" to the Post, Zhu Haiquan, spokesman for the Chinese embassy, wrote that Huangyan Island "is Chinese territory and was not seized from another country."
The letter was in response to the May 9 editorial, titled "Dangerous Rocks in the South China Sea," which alleged that Huangyan Island, or Scarborough Shoal, was "seized" by China from the Philippines four years ago.
The spokesman cited as evidence the 1898 Treaty of Paris, the 1900 Treaty of Washington and the 1930 Convention Between the United States and Great Britain, which give the western limit of the Philippine territory as 118 degrees east longitude, adding that this was also reaffirmed by the Philippine Constitution in 1935.
"China's islands and reefs in the South China Sea, including Huangyan Dao, are all west of that line," Zhu pointed out.
He went on to reject the editorial's accusation that China has refused to abide by international law by not participating in the arbitration case filed by Manila to a United Nations tribunal.
"By not accepting or participating in the arbitration unilaterally initiated by the Philippines, China is acting in accordance with international law," Zhu stated.
In 2006, the Chinese government exercised its right under the UN Convention on the Law of the Sea and made a declaration that excludes compulsory arbitration, the spokesman noted, adding that more than 30 countries have made similar declarations.
China supports and advocates for the "dual track" approach initiated by the Association of Southeast Asian Nations (ASEAN) to handle the South China Sea issue: maintaining peace and stability in the region while resolving disputes through negotiations and consultations between the states concerned, wrote Zhu.
In his letter, the spokesman also advised the United States not to become a "dangerous rock" in the region, as it actually has no territorial claim in the South China Sea.
South China Sea has in recent years become a source of tension between China and the United States, with Washington continuously sending warships and aircraft to waters and airspace adjacent to Chinese islands and reefs, and actively enhancing military ties with regional countries like the Philippines.
"We hope the United States will help foster a favorable environment for dialogue and negotiation. US alliances should not infringe on China's sovereignty and legitimate rights," Zhu commented.
Encouraging the United States to "flex its muscles" in the region is "dangerous and counterproductive," said the spokesman.
"It will be viewed by some countries as a blank check to embolden their own provocative actions, undermining diplomatic efforts and further. escalating tension," he elaborated.