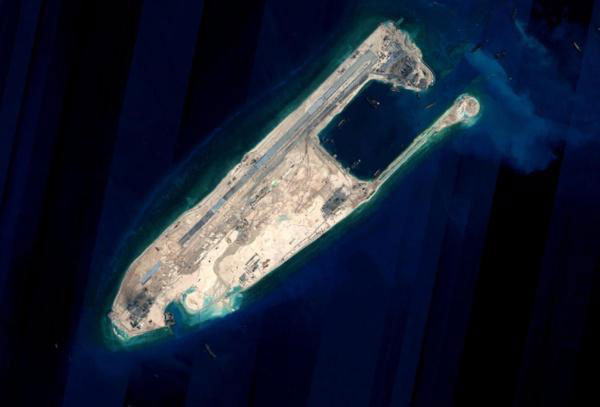 This satellite image shows the Yongshu Jiao of China's Nansha Islands. [Photo/Xinhua]
Afghanistan supports China's position to resolve the South China Sea issue via bilateral negotiations between countries, a top Afghan leader said while meeting with Premier Li Keqiang in Beijing on Monday.
"Afghanistan supports China's stances over issues concerning its core and major interests," said Afghan Chief Executive Abdullah Abdullah, who is visiting China from Sunday to Wednesday.
The remark came after about 40 countries said they backed China's stance on the issue.
"Afghanistan supports our position in the South China Sea issue and our efforts in resolving the issue through bilateral channels and peaceful means of negotiation and consultation," Hou Yanqi, deputy director of the Foreign Ministry's Asian Department, said after the meeting.
Premier Li said China appreciates the neighbor's solid support in these areas and would like to deepen bilateral cooperation in economic and people-to-people exchanges, security and regional and international affairs.
The post of Afghanistan's chief executive was created in September 2014 for Abdullah, who claimed victory in that year's presidential election simultaneously with another candidate, Ashraf Ghani. In a compromise to maintain national unity, Abdullah assumed the new post while Ghani became president.
Fu Xiaoqiang, a researcher at the China Institutes of Contemporary International Relations, said Afghanistan's support shows that China has won over a large number of countries on the South China Sea issue.
"Negotiations with contracted countries are the only way to resolve the dispute, instead of military means," he said.
Support for China included a statement on Thursday at the close of the ministerial meeting of the China-Arab Cooperation Forum, in which the participating Arab nations backed China's efforts to peacefully resolve maritime differences through dialogue.
Meanwhile, after the meeting, China and Afghanistan signed agreements to promote economic and technological exchanges, regional connectivity and bilateral trade.