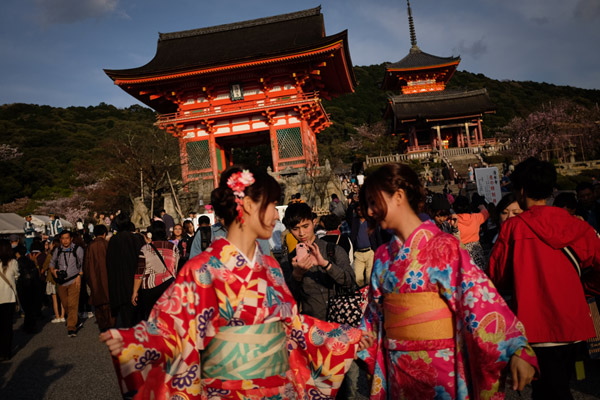 Chinese tourists, dressed in traditional Japanese kimono, take photos in front of Kiyomizu-dera Temple, Kyoto, Japan on April 9, 2016. [Photo/VCG]
The Japanese government will further ease visa requirements for Chinese citizens as part of its plan to attract 40 million foreign tourists every year by 2020.
The plan was adopted at a meeting of the Ministerial Council on the Promotion of Japan as a Tourism-Oriented Country on Friday, Japan Times reported.
The newspaper also reported that the new visa rules are expected to be carried out before this summer.
Japan's Ministry of Foreign Affairs announced on its website late last month that 5-year, multi-entry visas will be extended to 10 years, particularly for Chinese businessmen, academics and artists. Visa requirements for certain applicants will also be lowered. Previously, multiple-entry individual visas were issued to high-income Chinese tourists with a 5-year validity.
Meanwhile, single-entry visa application procedures will also be simplified for students from 75 universities under the direct supervision of the Chinese Ministry of Education. These include registered undergraduates and post-graduates, as well as alumni who graduated from the 75 schools within 3 years.
The announcement came after Japanese Foreign Minister Fumio Kishida's meeting with his Chinese counterpart, Wang Yi, last month in Beijing, the first since one held in Seoul in November 2015.
Liu Junhong, a researcher at China Institutes of Contemporary International Relations, said the easing of Japan's visa policies is aimed at boosting the country's sluggish economy, which is reeling from deflation and weak demand.
Japan remains one of the favorite overseas destinations for Chinese holidaymakers. Data from the Japan National Tourism Organization showed that the number of Chinese tourists to Japan more than doubled last year to reach 5 million.
More noticeable for local retailers is the spending power of Chinese tourists, who accounted for more than 40 percent of the total spending of foreign visitors to Japan in 2015.
Russians and Indians are also on the list of beneficiaries in this visa easing policy.
Prior to Japan, many other countries have issued 10-year visas for Chinese citizens. Back in November 2014, the US government started issuing multi-entry business and tourist visas valid for up to 10 years in China.
The United Kingdom and Australia are also considering the extension of their visa validity to 10 years.