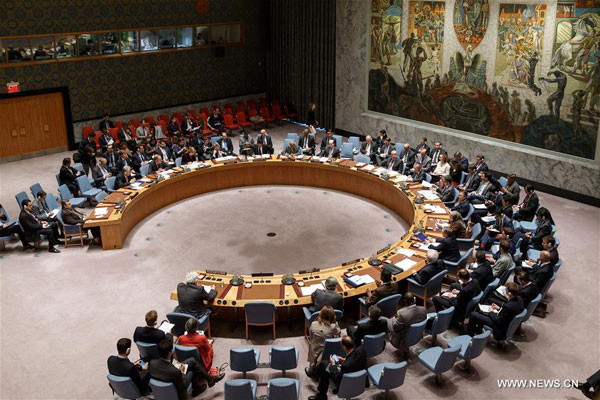 Photo taken on May 4, 2016, shows the United Nations Security Council meeting on Syria at the UN headquarters in New York. [Photo/Xinhua]
UNITED NATIONS - The United Nations on Wednesday urged Syrian parties to abide by cessation of hostilities in Aleppo, a major city in northern Syria which has witnessed an escalation of violent fighting.
At a Security Council meeting on the situation of Aleppo, UN Under-Secretary-General for Political Affairs Jeffrey Feltman noted that the United States and Russia have agreed to extend a nationwide truce to Aleppo.
Feltman said "we urge parties to abide by this immediately and comprehensively."
Earlier on Wednesday, the Syrian army confirmed that a 48 hour regime of silence will start in Aleppo from Thursday.
The truce came after the city has witnessed more than ten days of violence which killed over 120 people and injured hundreds of others.
"The current levels of violence in Aleppo in particular negatively impact the ability of the Syrian parties to engage in negotiations," said Feltman, noting that the only way for peace in Syria is through a political solution.
UN Under-Secretary-General for Humanitarian Affairs Stephen O' Brien briefed the 15-nation council that roughly 300,000 people in eastern Aleppo live in constant fear of air-strikes.
"The estimated 1.3 million people living in western Aleppo city are crowding into basements, seeking refuge from volleys of shells and mortar rounds, which continue to slam into what's left of their homes," he said.
Intense fighting between the Syrian government forces and the opposition erupted over the past days in Aleppo, despite continued diplomatic efforts to restore the ceasefire agreement reached in February.
The Syrian government has blamed the rebels in Aleppo for violating the truce, while oppositions accused Syrian warplanes of striking rebel-held areas in the eastern part of the city.