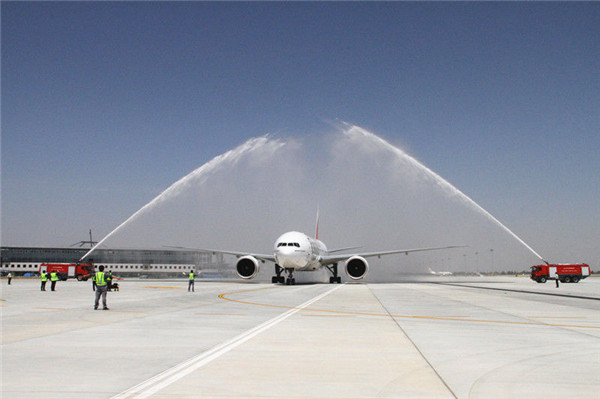 The inaugural flight between Dubai and Yinchuan is greeted with a water cannon salute when it touched down at Yinchuan Hedong International Airport, May 3, 2016. [Photo by Guo Shaoyu/chinadaily.com.cn]
Emirates Airlines launched its first direct flight between Dubai and northwestern China's Yinchuan on Tuesday, aiming at boosting its connectivity to China as the Belt and Road Initiative continuously strengthens economic ties between Beijing and the Middle East.
The flight between Dubai and Yinchuan, the provincial capital of Ningxia Hui autonomous region, is scheduled for every Tuesday, Wednesday, Friday and Saturday.
After landing at Yinchuan Hedong Airport, the flight will continue further east to Zhengzhou, provincial capital of central China's Henan province, before returning.
Currently, the Dubai-based carrier flies to three cities in China: Beijing, Shanghai and Guangzhou.
Emirates Airline is one of the busiest airline companies in the world.
The new routes have been scheduled to allow for seamless connections to several destinations in the Middle East, Europe and Africa, which means local Chinese will be able to travel to most cities in the world by transferring in Dubai.
Yinchuan lies to the west of the Yellow River and to the east of Helan Mountain, serving as a gateway connecting China to Arab countries.
The region has wide potential in cooperating with Emirates in the aviation industry, Li Jianhua, Party chief of Ningxia, said in March when he met with the airline's senior vice-president.
"Ningxia has unique advantage in location and resources for developing an aviation industry," he said. "The two parties can work together on opening new routes, establishing a joint-venture airline and air service companies and expanding air logistics trading."
dujuan@chinadaily.com.cn