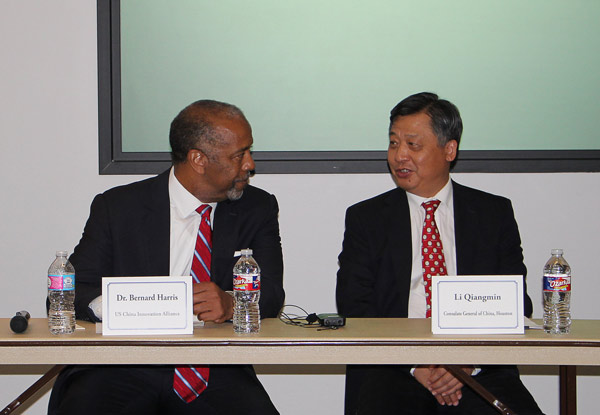 Chinese Consul General Li Qiangmin talks with Bernard Harris, president of the US China Innovation Alliance, at a news conference in Houston on Wednesday. MAY ZHOU / CHINA DAILY
US and Chinese business leaders on Wednesday announced the first US China Innovation and Investment Summit will take place May 16-18 in Houston.
The international business conference is designed to connect US technology companies, especially those in and around Texas, with potential investment partners from China.
Li Qiangmin, consul general in Houston, citing President Xi Jinping's speech at a top university three days ago that China will depend on innovation for further development, said that the US innovation will be commercialized and scale up faster with Chinese investment.
Li said that there is unprecedented demand from Chinese companies to seek technology innovation through mergers and acquisitions, as well as establishing new research centers overseas.
"This event will help improve the efficiency of innovation collaboration and cross-border merger and acquisitions between the two countries," Li said.
Dr. Bernard Harris, former astronaut and president of the US China Innovation Alliance, one of the host organizations, said that there is a need for opportunities to connect, especially between China and the southern part of the US, by creating forums for exchange. Harris himself is involved in the process of helping two US companies closing two deals of this nature between China and the US.
According to James Chen, Asia-Pacific director of the Office of the Governor of Texas - Economic Development and Tourism Division, Texas is rich in innovation and exports more high tech than California.
"Chinese has made a lot investment in manufacturing and the oil industry in the past, and now I see more and more Chinese companies coming here to explore opportunity in tech industries," Chen said.
Water Ulrich, president and CEO of the Houston Technology Center, another of the host organizations, said that there are many important technologies in the South. However, they don't get funded as quickly, he said.
"We would like to see more Chinese investment in the Southwest, especially in Texas, to help the startups here flourish, Ulrich said.
The inaugural event is expected to draw 200 US technology companies and 150 Chinese investors, including executives from top venture capital and private equity firms, and industry leaders and administrators from China's top industrial parks and development zones.
After the Houston conference, the Chinese delegations will continue on satellite tours to Austin, Dallas or Atlanta to explore similar opportunities.
mayzhou@chinadailyusa.com