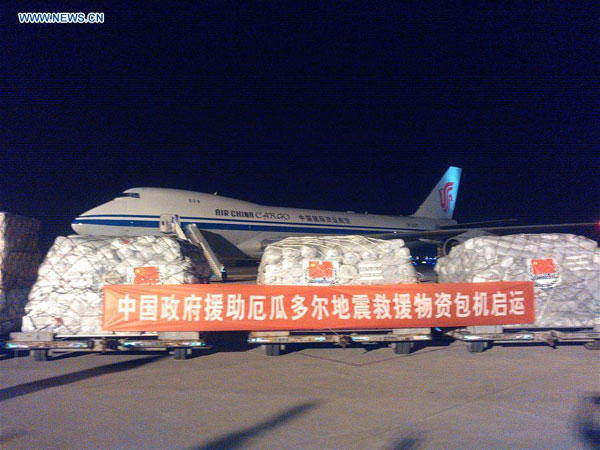 Photo taken on April 26, 2016 shows the relief materials which will be transferred to the quake-hit Ecuador in north China's Tianjin. [Photo/Xinhua]
QUITO - The Chinese government delivered 60 million yuan (about 9.5 million US dollars) worth of humanitarian aid materials to tens of thousands of victims in the deadly earthquake in Ecuador.
Four planeloads of aid arrived at the Mariscal Sucre International Airport of Quito, the capital of Ecuador, Wednesday. One more cargo plane will get to Ecuador Thursday afternoon.
The aid, which consists of 5,400 tents, 9,999 folding beds and other supplies, has been immediately sent to quake-ravaged Manta and will house the homeless for several months.
Ecuador's first vice president of the National Assembly Rossana Alvarado, Defense Minister Ricardo Patino, and Foreign Minister Guillaume Long welcomed the arrival of the Air China cargo planes at the airport.
Chinese Ambassador Wang Yulin said that his country was shocked by the tragedy in Ecuador. Through the delivery of humanitarian aid, China wishes to express its solidarity with the Ecuadorian government and people.
"China and Ecuador are two friendly countries and our two peoples are brothers. At this difficult time, China is with Ecuador and is more than willing to actively participate in the reconstruction of the affected areas," said the Chinese diplomat, hoping that under the leadership of President Rafael Correa, "the Ecuadorian people will overcome the temporary difficulties."
This aid is in addition to the donation of two million US dollars delivered last week by the Chinese government, along with 100,000 US dollars donated by the Red Cross of China.
Rossana Alvarado thanked the help of the Chinese government, noting that this will help house the victims in shelters while advancing the reconstruction of the affected areas.