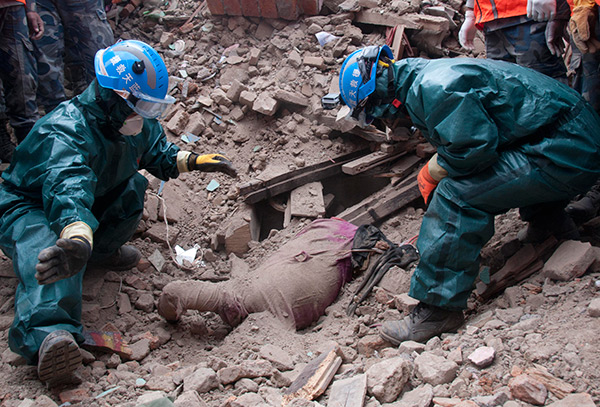 Chinese rescuers join in earthquake relief in Nepal in this 2015 file photo undated. [Photo/Xinhua]
Construction of an earthquake early warning system for Nepal is complete thanks to cooperation between the Institute of Care-Life in Chengdu, Sichuan province, and the Nepal Academy of Science and Technology.
The announcement on Monday coincided with the anniversary of the magnitude-7.8 Nepal earthquake that killed 8,699 people on April 25, 2015.
Costing $3 million, the system includes 120 sensors, one earthquake early warning center and terminals for schools, hotels, government organizations and communities to receive early warning messages.
According to Wang Tun, founder of the Institute of Care-Life, the system covers one-third of Nepal's territory and half its population.
"Now Nepal is the fourth country in the world with an earthquake early warning system after Mexico, Japan and China," said Wang, who is the system's creator.
The epicenter of last year's earthquake was about 90 kilometers from Katmandu, the country's capital.
If an early warning system had been in place, people in the capital would have known about the quake 18 seconds before it hit and thousands of lives could have been saved, according to Jiba Raj Pokharel, an official with the Nepal Academy of Science and Technology.
A real-time system that provides warnings seconds after an earthquake occurs can save lives because the warnings are transmitted via radio waves, which travel faster than seismic waves through the ground.
"Radio waves travel at 300,000 kilometers per second, while seismic waves travel at 3 to 6 kilometers per second. People who live in nearby areas may escape before the seismic waves arrive," said Chen Huizhong, a 73-year-old senior research fellow with the Institute of Geophysics under the China Earthquake Administration.