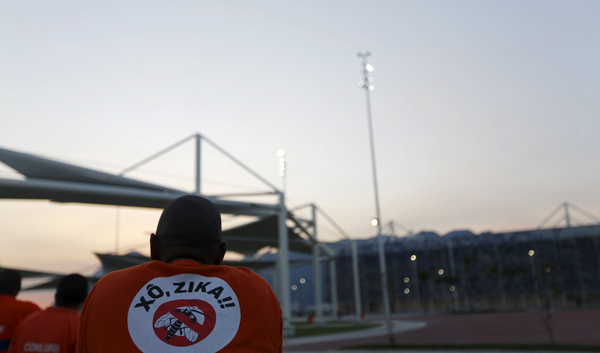 A worker from a public cleaning company wears a T-shirt that reads "Out Zika" is pictured before the inauguration ceremony of the common areas and the Live Site at the 2016 Rio Olympics park in Rio de Janeiro, Brazil, April 11, 2016. [Photo/Agencies]
RIO DE JANEIRO - The World Health Organization (WHO) said Monday that the number of Zika epidemic cases has begun dropping.
However, the agency warned it still expected cases around the world to sharply rise in the coming months.
According to WHO's assistant director-general Marie-Paule Kieny, the drop in Zika cases in Brazil is due to the end of summer, with mosquitoes thriving less in colder temperatures. There are also drops of the Zika cases in Colombia and Cape Verde.
No precise numbers for this drop are released but the Brazilian government has admitted that Zika has been reported in all its states, totalling more than 1.5 million cases, and more than 4,000 suspected cases of microcephaly in babies.