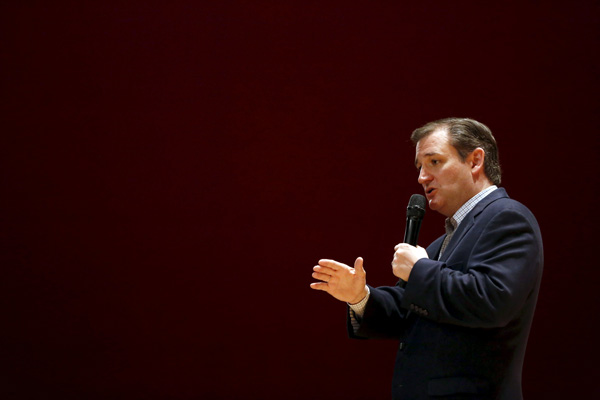 US Republican presidential candidate Ted Cruz (R-TX) speaks at a campaign event at Woodrow Wilson Middle School in Terre Haute, Indiana April 24, 2016. [Photo/Agencies]
WASHINGTON - Ted Cruz and John Kasich, the two US Republican presidential rivals, announced late Sunday night that they will cede certain states to each other in a bid to keep Donald Trump from garnering enough delegate votes he needs to secure the Republican nomination.
In a pair of unexpected statements, Texan Senator Cruz said he would concentrate his resources in Indiana while Ohio Governor Kasich would put all his effort into Oregon and New Mexico. Both candidates also called on their supporters to follow suit.
Their aim is to stop Trump from gaining the 1,237 delegates so the real estate tycoon won't clinch the Republican nomination in a first-ballot victory.
Trump, the controversial billionaire who, to many's surprises, has been leading the race of the Republican presidential nomination, is the only hopeful who can realistically get a first-ballot victory, with Cruz struggling to keep up and Kasich far back in the delegate chase. And the only hope left for Cruz and Kasich is to drag Trump into a second ballot.
"To ensure that we nominate a Republican who can unify the Republican Party and win in November, our campaign will focus its time and resources in Indiana and in turn clear the path for Gov. Kasich to compete in Oregon and New Mexico," Cruz campaign manager Jeff Roe said in a statement, calling Trump at top of the party ticket "a sure disaster."
"Due to the fact that the Indiana primary is winner-take-all statewide and by congressional district, keeping Trump from winning a plurality in Indiana is critical to keeping him under 1,237 bound delegates before Cleveland. We are very comfortable with our delegate position in Indiana already, and given the current dynamics of the primary there, we will shift our campaign's resources West and give the Cruz campaign a clear path in Indiana," John Weaver, Kasich's chief strategist, said in another statement.