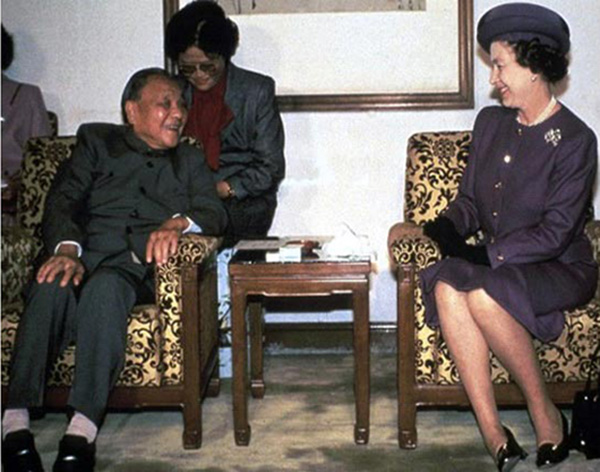 China's then top leader Deng Xiaoping, left, meets with visiting British Queen Elizabeth II in Beijing during the queen's trip to China in October 1986. The Queen became the first British monarch ever to visit China when she paid a state visit to the country in 1986. PROVIDED TO CHINA DAILY
Queen Elizabeth II, who 30 years ago became the first-ever British monarch to visit China, turns 90 on April 21, and a series of public celebrations get under way to pay tribute to the country's longest-serving sovereign.
She met Chinese leader Deng Xiaoping during her visit to Beijing in October 1986, less than two years after China and UK agreed on the future of Hong Kong and during a time of increasing British-Chinese trade.
Over the next 30 years, the Queen welcomed three Chinese top leaders, including Jiang Zemin, Hu Jintao and current President Xi Jinping, on each occasion inviting them to stay as her guest at Buckingham Palace, seen as the highest honor in the complex world of royal protocol.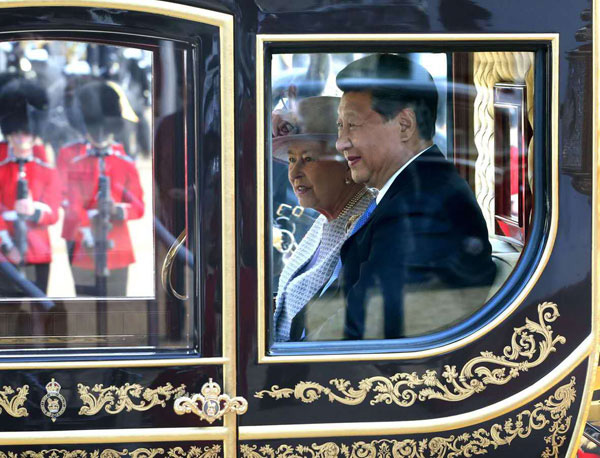 Britain's Queen Elizabeth and President Xi Jinping are driven by carriage along The Mall to Buckingham Palace in London, Oct 20, 2015.[Photo by Wu Zhiyi/China Daily]
One of the lasting images of President Xi's visit last October was of him smiling and waving as he rode through central London with the Queen on their way to Buckingham Palace.
"I have seen for myself how highly Her Majesty values UK-China relations and the role that she can play in furthering friendship between the two countries," Sir Christopher Hum, former British Ambassador to China, said in an interview with China Daily in London.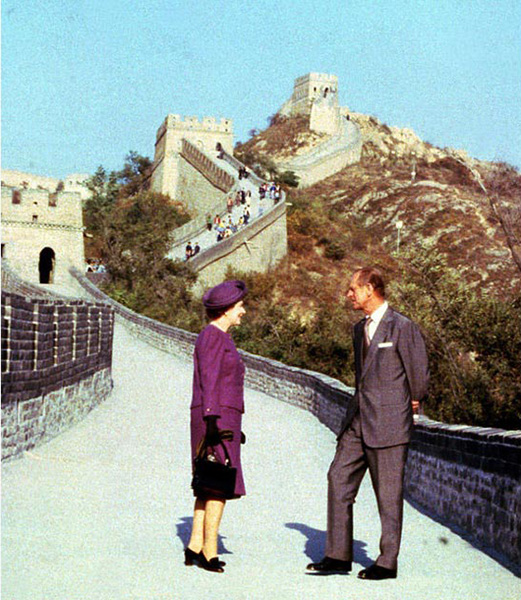 Queen Elizabeth II and her husband Prince Philip, Duke of Edinburgh, at the Great Wall during the state visit, in October 1986. [Photo/CFP]
During her 6-day visit with her husband Prince Philip in China in 1986, the monarch spent three days sightseeing in and around the capital, including the Forbidden City, the Great Wall, and the tombs of Ming emperors; she also visited Shanghai, Xi'an and Kunming in southwestern China before sailing from Guangzhou for Hong Kong aboard the royal yacht Britannia.
"It was China's desire to shape a new future which captivated us the most," the Queen recalled her visit to China in her speech at the Buckingham State Banquet when she hosted President Xi Jinping during his state visit to the UK last year. "We were struck by the energy and enthusiasm with which China's leaders were forging ahead with a new and ambitious future for the Chinese people."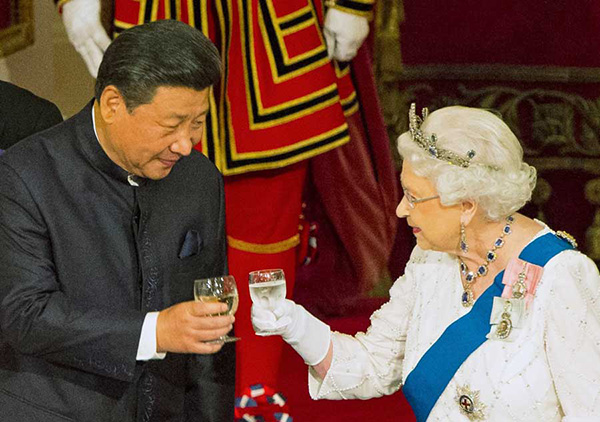 President Xi Jinping with Queen Elizabeth II at a state banquet at Buckingham Palace, London, during the first day of his state visit to Britain, on Oct 20, 2015. [Photo/Agencies]
The Chinese president, who heralded a golden era between China and UK after his state visit to the UK last year, sent his birthday greetings to the Queen when he met her son Prince Andrew this April in Beijing.
"I understand that ... the United Kingdom will soon be celebrating the 90th birthday of Her Majesty Queen Elizabeth II and also the 95th... of his Royal Highness the Duke of Edinburgh," Xi said. "I'd like to wish them good health and longevity."