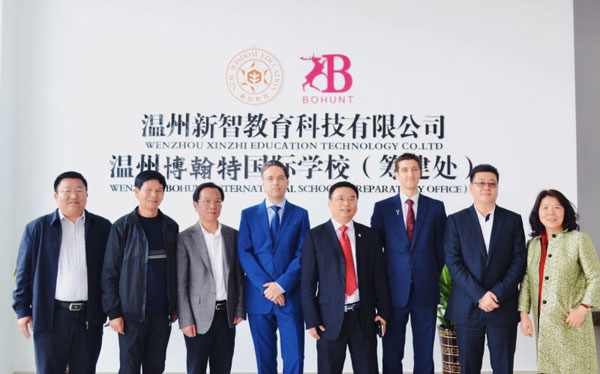 BET's Chief Executive Neil Strowger (middle) with delegation from Wenzhou Xinzhi Education Technology Company. [Photo provided to China Daily]
Wenzhou Bohunt International School, a new Sino-UK hybrid school for Chinese students who will be taught a Bohunt-style curriculum and take GCSE and A Level examinations, is scheduled to open in 2018.
The announcement was made today by Wenzhou Xinzhi Education Company and Bohunt Education Trust (BET). BET has existing schools in the South of England including, one of the schools is Bohunt Liphook, a top performing state schools in the UK. Wenzhou Bohunt International School will become the first English state school to run a school in China.
This relationship will allow the trust to offer its innovative educational approach to Chinese students and continue its collaboration with Chinese teachers to benefit British and Chinese students. The school aims at opening up exchange opportunities for its UK staff and students.
The partnership came following BET's increasing profile as one of UK's leading education trusts for delivering Mandarin courses as well as its appearance in the 2015 BBC series titled 'Are Our Kids Tough Enough?'.
BET has a longstanding Mandarin program that offers immersion teaching where students learn a third of the curriculum in the language.
Neil Strowger, Chief Executive of Bohunt Education Trust, said collaboration has always underpinned the philosophy at Bohunt.
"It is one of the reasons we decided to take part in the Chinese School series. Our experience of the series further emphasized the importance of working and learning with others to deliver the very best education. This is exactly what this partnership is all about," said Strowger.
"Preparing students to be active participants in our global economy has always been a key part of our vision. This is why we have made languages –and Mandarin in particular – a central part of our offer, and we are pleased at this latest development which will benefit young people in both the UK and China."
Staff will be recruited locally in China, as well as in the UK. BET will provide teacher training and recruitment support. They plan to play an advisory role for the building design and develop teaching materials along with the school's curriculum.
BET already hosts exchanges for its students with Chinese schools and runs the first state secondary school in the country to teach all of its students Mandarin.
As the trust grows in the UK, it hopes to further grow its Chinese collaborations to provide unparalleled opportunities for UK and Chinese staff and students.