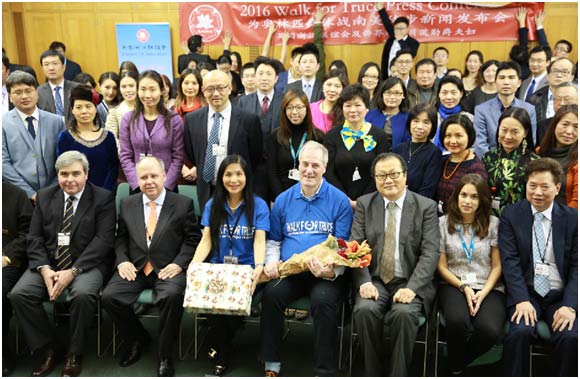 Lord Michael Bates (center, front row, in blue T-shirt) and Xuelin Bates (left to Lord Michael) are pictured with friends and guests at 2016 Walk for Truce Press Conference in London, March 24, 2016. [Photo by Song Wei/chinadaily.com.cn]
London - A British couple will soon embark on a 138-day walking trip in South America in a bid to call for truce during the upcoming Rio Olympics.
Lord Michael Bates, 54, who stepped down from his previous job as the Minister of State at the Home Officein order to undertake the walk, will start from Buenos Aires on April 6 with his Chinese-born wife Li Xuelin.
The 3,000-kilometer journey will take the pair from Argentina, Uruguay, Paraguay and all the way to the capital of Brazil, Rio de Janeiro, on August 22, when the summer Olympic Games come to an end.
"The Olympic truce was set up for the ancient Olympic Games. It wasn't just a part of the ancient Games; it was the entire point of it," said Lord Michael.
"What we want to do is to encourage all the 180 countries who have signed up to the Olympic truce at the UN to do just one thing to implement the truce," the former politician said.
Lord Michael cited Brazil as a good example for it is so far the only country that has a "Transformer Program" using places such as schools to encourage people to play against each other.
Unveiling the plans at a news conference in London on Thursday, Lord Michael said they also expect to raise £250,000 (2.29 million yuan) for United Nations International Children's Emergency Fund (UNICEF) along the trip.
Lord Michael began walking 4,693 kilometers from Olympia in Greece to London on April 22, 2011, to bring the Olympic truce into reality during the 2012 London Summer Games. The journey lasted 300 days and covered 12 European countries.
It was during the walk in 2011 that he met Xuelin, and they got married in 2012. "We vowed to each other to do our bit for peace on the day we got married, and we set up Walk for Truce fund on that day," Xuelin said.
"From then on, we decided to do something meaningful instead of spending time on seaside when Michael takes his two-and-a-half-month holiday as a member of the Parliament."
In 2013, the couple hiked from London to Northern Ireland to raise money for the war-torn Syrian children.
The following year, they walked from London to Berlin to celebrate the 100th anniversary of WWI.
In 2015, in order to commemorate the 70th anniversary of the end of the World Anti-fascist War, the pair spent 71-day walking trail in China covering six provinces from Beijing to East China's Hangzhou city.
"Xuelin is a fantastic support," said Lord Michael. "She always goes ahead to plan the way and stays behind to pay the bills."