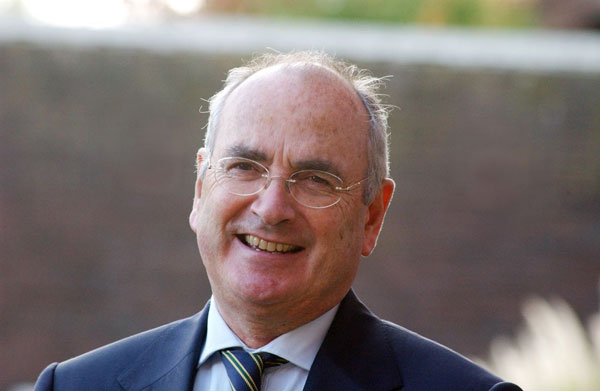 Professor Anthony Glees, director of Centre for Security and Intelligence Studies at the University of Buckingham. [Photo provided to chinadaily.com.cn] 
It is no surprise that the Brussels attack happened, given the arrest of Salah Abdeslam, suspected as one of the main leaders of Paris attacks, says Professor Anthony Glees, Director of the Centre for Security and Intelligence Studies at the University of Buckingham.
"What is surprising is that one would have expected that at this time there would have been very strong armed police and soldiers at the airport and in the vicinity of the European Union. It is not a surprise because it was clear that a revenge attack was highly likely given the arrest of Salah Abdeslam," Glees adds.
Glees believes Belgium's fractured and divisive society is a reason that radical Islam could flourish under the radar screen, and the political and cultural constraints in the country are something that the Belgian government should think about.
"For example, they could not arrest Salah Abdeslam at night time because of the Belgian law that you cannot arrest people at night time," he says.
Another reason that attacks are likely to happen is that here there are questions about communications between the Belgian intelligence organisation and the Belgian police, says Glees, adding that the UK security services and counter terrorism police work hand in glove, and it bears fruit.
According to Prime Minister David Cameron, there were seven radical Islamist plots in 2015 in the United Kingdom, all of which were disrupted by the security service MI5, acting together with the Government Communications Headquarters interception service.
Andrew Parker, the director general of MI5, said there were thousands of radical Islamists in the UK hoping to attack, but that hasn't been successful in the UK
"I think it is because we in the United Kingdom give our intelligence and security community intrusive powers that go far beyond powers given to any other intelligence community in any other western country," Glees says.
In light of the Brussels explosion, many activists in favour of the UK leaving the EU have already voiced their opinion, saying the UK would be safer out of the European Union than inside the EU.
Glees disagrees with the notion, saying "That is not the case. It is the only way this trans-national threat can be combated is by working together on a transnational basis. National security, according to the Lisbon Treaty, is the duty of every member national of the EU and within the EU, we share intelligence.
"This is a common threat and we are all equally vulnerable. What we see in Brussel is actually an argument for UK leading Europe, not leaving Europe," Glees says.
To contact the writer: wangmingjie@mail.chindailyuk.com