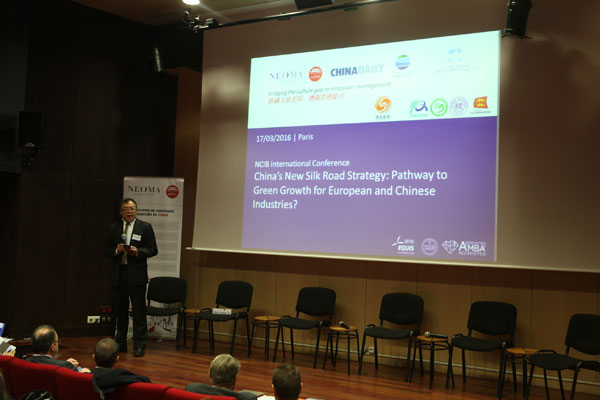 China will offer green industrial capacities to engage the countries along One Belt and One Road routes to realize better connectivity in Asia, Europe and Africa, according to participants at a seminar organized by France's NEOMA Business School and China Daily on Thursday in Paris. [Photo by Tan Qiuying/chinadaily.com.cn]
European businesses and academics are confident that China will offer green industrial capacities to engage countries along One Belt and One Road routes to realize better connectivity in Asia, Europe and Africa.
Their confidence was expressed at the China's New Silk Road Initiative conference on March 17 in Paris, which was jointly organized by China Daily and NEOMA Business School in France.
More than 150 participants attended the event and among them are representatives from Confucius institutes, Chinese and European business representatives from Bank of China, BYD, Huawei and EDF electricity.
Zhang Haiyan, director of NEOMA Business School-Confucius Institute for Business, said there had been rising interest in its potential contribution to the economic and industrial development in Asia and Europe after the announcement of China's Belt and Road Initiative in 2013.
But concerns have also been expressed about its environmental feasibility and consequences, which have been more and more perceived as key issues in the implementation of the New Silk Road initiative, especially in the context of rising concern about the climate change.
"This is the background why we cooperate with China Daily to organize this event. But from the discussions we held, we found that China is keen on promoting green cooperation and realizing green development with other countries along the silk road," said Zhang.
And in its domestic agenda, China has become stricter in implementing energy and environmental standards in the coming five years.
Tu Jianjun, China program manager of the Intentional Energy Agency, said China's carbon intensity cut has been increased during 2016-2020 period compared with 2011-15 period, which indicated the determination of the Chinese government to curb pollution.
He said in 2040 China may own the largest renewable energy industry globally.
"China's serious energy sector reform is a prerequisite to tap China's full potential on clean energy development. The country's transition to a more diversified and a much less energy intensive model for growth re-shapes global energy market and help global climate agenda," Tu said.
Tu's opinion was echoed by French expert Serge Degallaix, General Director of Foundation Prospective and Innovation. He said that the 13th Five Year plan is a continuation of the 12th Five Year Plan.
"We welcome the new approach, we are in the situation where things are changing but going to the right direction, we think there are new fields of opportunists for business between the two countries," he said.
"We are in favour of China's investment because we need capital. Our feeling is the attitude of the Chinese investors have changed , but from the French side there is still fear of Chinese investors taking everything from the French," he added, "so we have built some institutions jointly held by the two sides, it's a way to converge interest, not only in favor of one side."
To contact the reporter: fujing@chinadaily.com.cn