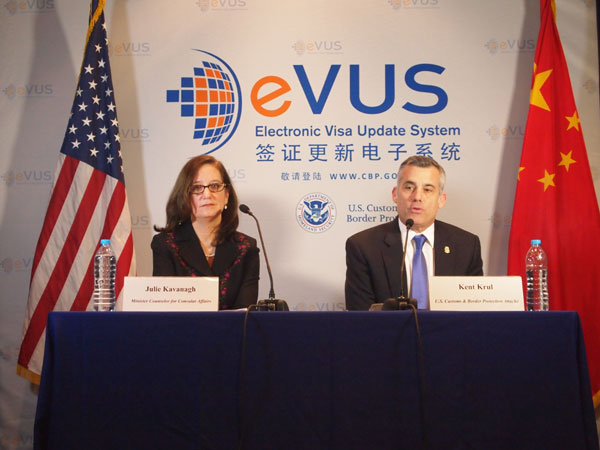 Kent Krul (R) and Julie Kavanagh attend a press conference to introduce the EVUS in the US Embassy in Beijing, March 15, 2016. [Photo by Liu Xiaozhuo/chinadaily.com.cn] 
Chinese nationals holding 10-year US visas will be required to complete an online form to update certain biographical information to enter America from November, US Customs and Border Protection (CBP) announced Tuesday.
Kent Krul of the CBP, said Chinese travelers will need to have a valid Electronic Visa Update System (EVUS) enrollment prior to traveling to the US. An EVUS enrollment is valid for two years or until the traveler obtains a new passport.
Krul also said EVUS is a new platform under development designed to enhance border security in accordance with the bilateral arrangement between the US and China to issue 10-year validity tourist and business visas. A nominal fee will be charged at the time of the EVUS enrollment and subsequent updates.
"We are committed to making the travel process for Chinese travelers as smooth as possible," Krul added.
Julie Kavanagh, the Minister Counselor for Consular Affairs of the US Embassy in Beijing, said that the 10-year visa is to stay and EVUS is a fast and convenient system that will help Chinese travelers to enter America quickly.