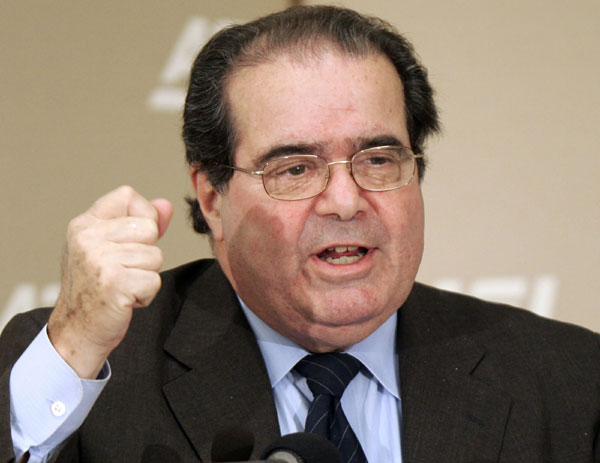 US Supreme Court justice Antonin Scalia speaks at the American Enterprise Institute for Public Policy Research in Washington, in this file photo taken February 21, 2006.[Photo/Agencies]
WASHINGTON - Conservative US Supreme Court Justice Antonin Scalia has died, setting up a major political showdown between President Barack Obama and the Republican-controlled Senate over who will replace him just months before a presidential election.
"On behalf of the court and retired justices, I am saddened to report that our colleague Justice Antonin Scalia has passed away," Chief Justice John Roberts said in a statement on Saturday, calling Scalia, 79, an "extraordinary individual and jurist."
Scalia's death was first reported by the San Antonio News-Express, who said he had apparently died of natural causes while visiting a luxury resort in West Texas.
Obama, who is traveling in California, extended his condolences, and the White House said he would have more to say about Scalia's death later on Saturday. The Supreme Court lowered its US flag in honor of the dead jurist.
CNN, citing sources, said Obama intended to nominate Scalia's successor, a move opposed by a number of leading Republicans, including Senate Majority Leader Mitch McConnell and Senate Judiciary Committee Chairman Chuck Grassley.
The looming political battle is almost certain to come up when six of the Republican presidential candidates participate in a televised debate Saturday evening in South Carolina, which holds its Republican nominating contest on Feb. 20.
"Justice Scalia was an American hero. We owe it to him, and the nation, for the Senate to ensure that the next president names his replacement," Senator Ted Cruz of Texas, a Republican White House hopeful, said on Twitter.
Signaling that Obama would face a stiff battle to win confirmation of a nominee before he leaves the White House next January, McConnell said in a statement that the vacancy on the high court "should not be filled until we have a new president."
Grassley, who heads the committee that will decide whether to send a nominee to the full Senate for a vote, said it was standard practice over the past 80 years to not confirm nominees during a presidential election year.
But Senate Minority Leader Harry Reid, a Democrat, said Obama should send the Senate a nominee "right away."
Obama could tilt the balance of the nation's highest court, which now consists of four conservatives and four liberals, if he tries to and is successful in pushing his nominee through the confirmation process.
"Unless he (Obama) can find a consensus choice, the next president will pick the replacement for Justice Scalia," said Senator Lindsey Graham, a Republican who also sits on the Senate Judiciary Committee.