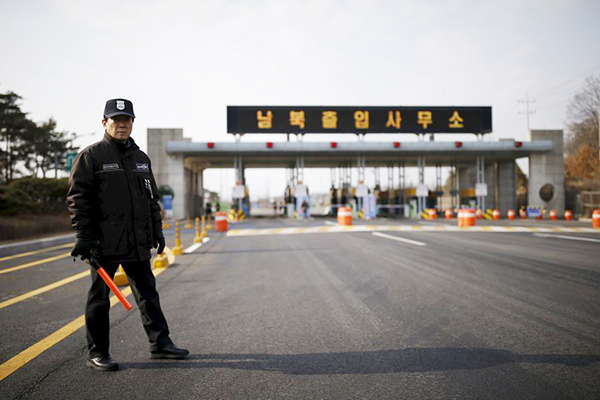 A Republic of Korea (ROK) security guard stands guard on an empty road which leads to the Kaesong Industrial Complex (KIC) at the ROK's CIQ (Customs, Immigration and Quarantine) in Paju, South Korea, February 11, 2016. [Photo/Agencies]
SEOUL -- All of nationals of Republic of Korea (ROK) on Thursday withdrew safely from a jointly-run factory park with the Democratic People's Republic of Korea (DPRK) after Pyongyang's decision to deport all ROK nationals from the park.
Seoul's unification ministry said on the phone that all of 280 ROK nationals having stayed at the Kaesong Industrial Complex crossed the military demarcation line (MDL) into ROK's territory.
All of the people, who had stayed in Kaesong to complete the shutdown of factories, returned to the south at about 10 pm local time (1300 GMT).
The DPRK decided Thursday to shut down the inter-Korean industrial zone and deport all of ROK nationals staying there. All of assets of ROK companies running factories there were frozen completely.
The move came a day after ROK announced its decision to stop operations at the industrial zone, which started manufacturing products in December 2004.
A total of 124 ROK companies had operated factories there, hiring some 54,000 DPRK workers. The industrial zone had been seen as the last remaining symbol of inter-Korean cooperation as it was launched as a result of a historic summit in 2000 between late ROK President Kim Dae-jung and late DPRK leader Kim Jong-Il.
Seoul's decision to shut down the factory park came in the wake of Pyongyang's long-range rocket launch on Sunday. On Jan 6, the DPRK tested what it claimed was its first H-bomb, the fourth of its nuclear detonations.