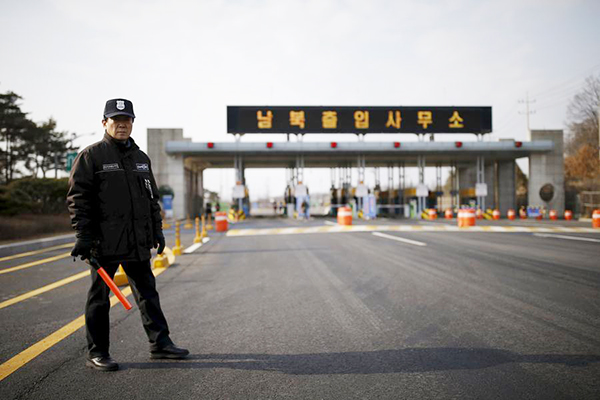 A Republic of Korea (ROK) security guard stands guard on an empty road which leads to the Kaesong Industrial Complex (KIC) at the ROK's CIQ (Customs, Immigration and Quarantine) in Paju, South Korea, February 11, 2016. [Photo/Agencies]
SEOUL - The Democratic People's Republic of Korea (DPRK) decided Thursday to deport all of Republic of Korea (ROK) nationals from an inter-Korean factory park in its border city of Kaesong, while cutting off communication lines with ROK, according to Yonhap news agency report.
A statement from the DPRK's Committee for the Peaceful Reunification of the Fatherland said the DPRK will deport all of ROK residents staying at the Kaesong Industrial Complex by 5:30 p.m. local time.
Declaring the Kaesong industrial zone as a military-controlled area, the DPRK decided to shut down the factory park, which first started manufacturing products in December 2004, and to withdraw all of about 54,000 DPRK workers from there.
The statement said all assets of ROK companies and relevant agencies, including equipment, materials and products, at the jointly-run factory park will be frozen completely.
The deported ROK nationals are allowed to bring back only personal items, and the frozen assets will be managed by a DPRK committee, according to the statement.
Pyongyang will cut off military communications lines between the two Koreas and close off communication channels at the truce village of Panmunjom.
The military demarcation line near the Kaesong complex will be completely blockaded by the DPRK, and the land route linking to the factory park will be blocked.